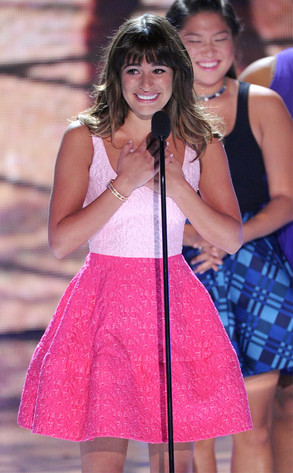 Kevin Winter/Getty Images
Lea Michele broke her silence about her late boyfriend Cory Monteith with a tearful and touching speech during tonight's Teen Choice Awards in L.A.
"I just wanted to be here today, to personally thank all of you and tell everyone out there how much all of your love and support has meant to me over these past very difficult few weeks," the Glee actress said while accepting her award for Choice TV Actress.
Michele continued as she began to weep, "I wanted to dedicate this award to Cory. For all of you out there who loved and admired Cory as much as I did, I promise that with your love, we're gonna get through this together. He was very special to me and also to the world, and we were very lucky to witness his incredible talent, his handsome smile and his beautiful, beautiful heart."