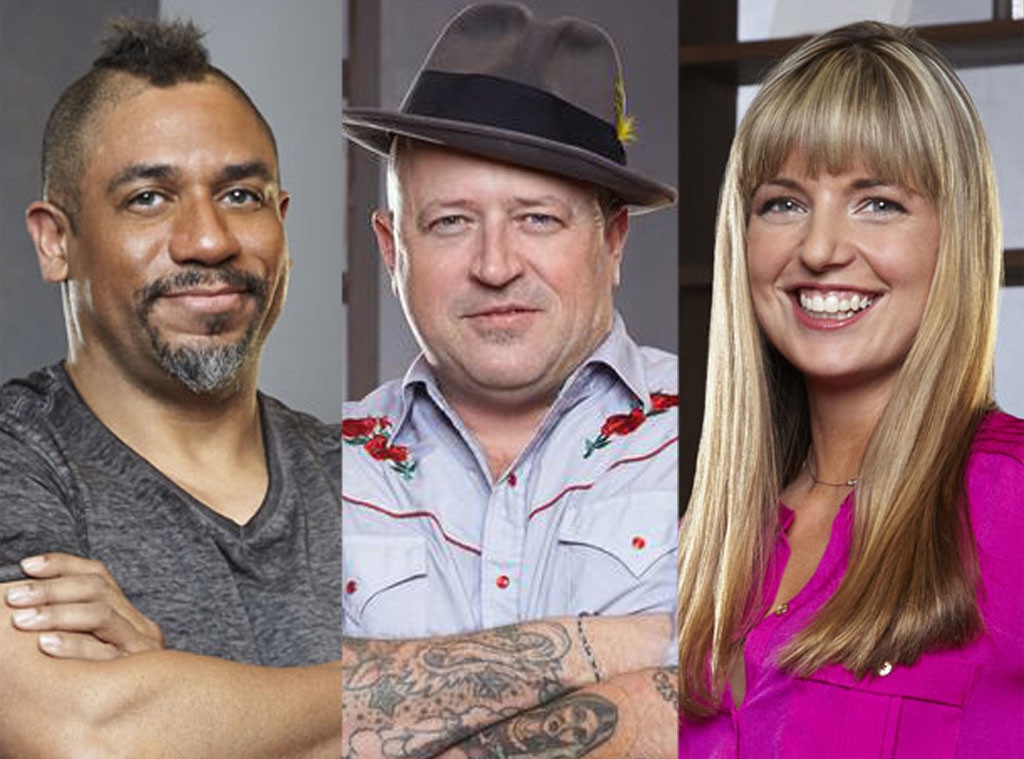 Food Network
WARNING: Below are spoilers from tonight's finale of Next Food Network Star. Read at your own risk!
Tonight on the season finale of The Next Food Network Star, Southern sweetheart Damaris Phillips, sin-loving underground chef Russell Jackson and self-proclaimed pie "expert" Rodney Henry were the last three standing to do battle for America's vote.
Celebrity superstars Alton Brown, Bobby Flay and Giada de Laurentiis, along with the unfortunately rarely-seen network bosses Bob Tuschman and Susan Fogelson and all the eliminated contestants were on hand for the reveal and a retrospective special.
About halfway through the episode, the judging panel eliminated one of the final three to make if the final two. It has to be Rodney getting the boot, right? If you read our piece on the final three, you all already know that we wanted the votes to come down to Damaris and Russell. We are hoping the universe heard our prayers.

Nope, Russell was canned first. We would be shocked, but after the judges cut the constant frontrunner and generally adorable Stacey Poon-Kinney last week, nothing makes sense anymore. Up is down! Cats and dogs living together…mass hysteria!
Anyway, after countless montages featuring the finalists, the judges and memorable past contestants like monotone queen Danushka Lysek and "meat on the side" Nikki Dinki, the winner was announced. So between Damaris' series about helping men cook Southern food to woo the ladies and Rodney's series that is basically Throwdown with Bobby Flay but with pies, which show will we be seeing on Food Network?
A couple of observations from the retrospective:
1. Rodney's montage of his favorite phrases ("Jack," "awesome," "pie style," etc.) and general attitude during the competition was video proof of why he shouldn't be in the top three. He had a limited vocabulary, was more goofy than expert and could not enunciate to save his undercooked pie-making life.

2. Viet Pham looked so dapper! We definitely missed his sense of style. And he basically got Bobby to admit that the judges had unfair expectations of his performance because he beat Flay in an Iron Chef competition.
3. Nikki revealed that she was 6 months pregnant during the episode, prompting us to come up with so many "meat on the side" jokes that our brains exploded. We're ashamed of us too.
4. All the points to Chris Hodgson for annoying Rodney in the never-before-seen footage montage, because now you know how America feels when they watched you this season, pie man!
Congrats to Damaris for her big win! And we're sorry for all the rants on Rodney, but it's been boiling up inside us all season. Thanks for letting us vent, guys. We feel much better.
Do you agree with the results? Or did someone else in the crowd of eliminated contestants deserve the win more than Damaris? Were we too hard on Rodney? Nah, we probably weren't.