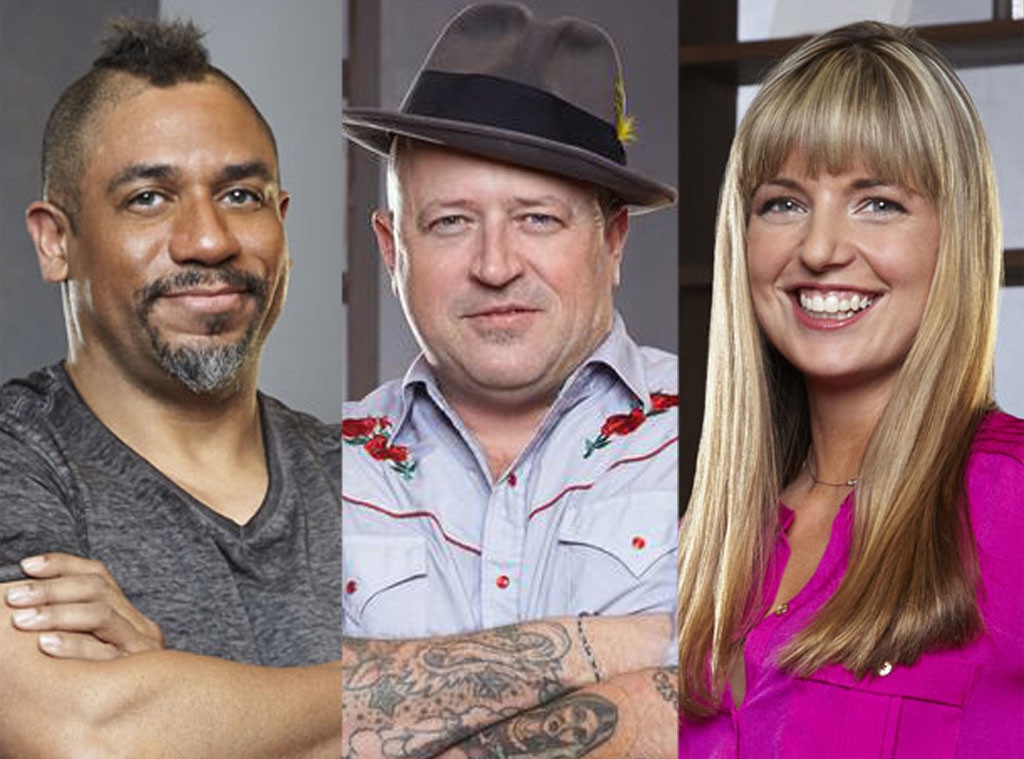 Food Network
Let's start off with honesty: Food Network Star's ninth season was not its strongest for several reasons.
First, none of the competitors truly wowed us with their food, personality or culinary point of view. Unlike Food Network's resident stars Guy Fieri and the series' three judges, none of the hopefuls screamed "authority." Secondly, a major lack of network honchos Bob Tuschman and Susan Fogelson. Seriously, they couldn't take more time away from running a television network to share their feedback? How rude! And finally, we missed Alton Brown, Bobby Flay and Giada de Laurentiis acting as team mentors as well as judges. Let's go back to the team format in season ten, OK?!
Still, we've arrived at the season finale, with three hopefuls, some with a lot of potential, vying for their own show on the Food Network: There's the Southern goofy charmer Damaris Phillips, underground chef and bourbon lover Russell Jackson and self-proclaimed pie expert and crooked-hat-wearer Rodney Henry. Here, E! Online's TV Scoop team's resident Food Network super-fans make their respective cases for Russell and Damaris to win the ninth season of Food Network Star and reveal why Rodney didn't earn any of their votes...
Tierney For Team Russell
Let's start this off by acknowledging the horrible crime that has gone unpunished that was committed last week when "modern vintage" mom Stacey Poon-Kinney was eliminated in favor of a contestant who: 1. needs subtitles; 2. can't cook; 3. never listened to judges' feedback; and 4. is a cheap knockoff of Guy Fieri.  
OK, rant over, back to business: When the competition first started, Russell's point of view, focusing on the seven culinary sins, immediately piqued my interest. Unfortunately, the soft-spoken, mohawked culinary rebel did not. However, Russell wins the award for most improved this season, as his food and on-screen persona flourished.
Based on their pilots, Russell has a home run concept: Embracing guilty pleasures in Guilty Pleasures. (Damaris' was a bit too gimmicky for my taste.) In today's culinary world, Russell's seven sins (salt, ice cream, liquor, bacon, fat, offal and sugar) are all looked upon with disgust, while health-conscious cuisine has become all the rage. Who knew indulgence would become the underdog? As Russell would say: Sometimes it's good to be bad. Especially if it means bourbon bacon ice cream. Mmm...
And none for Rodney. Bye! Seriously, how did Bob and Susan allow the "Pie Man," who literally has struggled to cook pie in every single episode, to make it to the final three? I'm even more shocked that Brown, our favorite judge, has allowed this to happen.
Jenna For Team Damaris
I also want to start off my stance by saying that I've been Team Stacey since day one. Not only was she the only one putting up consistently good food all season, but she was also the most consistent talent in front of the camera. Yes, she stumbled in her pitch, but shouldn't an entire season of Bobby, Giada and Alton seeing her skills be more than enough for them to vote her through? Over someone who, like my colleague Tierney said, rarely put up a good dish all season and has about nine words in his vocabulary, most of which are synonyms for: "dude"?
Now, my rant is over. Anyway, I am voting for Damaris because I loved her pilot idea and she has routinely charmed me during the season. I actually hadn't paid much attention to her (Stacey blinders), but her personality was at least interesting enough to keep me entertained, and she proved she could cook. Cooking is half the battle, and as Bobby said last season, the rest of those on-camera skills can be taught if necessary.
I feel like Food Network is grooming her to be the next Paula Deen, but I think she could be more than just a Southern chef. I love her idea of helping men woo their ladies by teaching them to cook, though I am not quite sold that Southern food is the food of love. I do think she came off a bit unnatural in her pilot, but I forgive it because I've seen her be naturally charming and effortlessly fun in many other situations.
So, Damaris has my vote, though I wouldn't mind if Russell came out on top. It's all about taking votes away from Rodney, who frankly does not deserve to be in the top three. Harsh, but that's the way the pie crust that's not cooked all the way through crumbles.