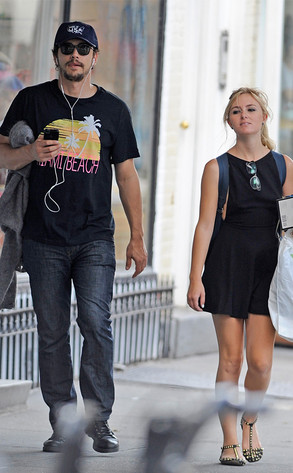 Turgeon-Steffman / Splash News
James Franco can take heart.
While his pals busily prepare to skewer him at his upcoming Comedy Central Roast, the Hollywood hunk has at least one person in his corner: a mystery blonde he cozied up to during a shopping excursion in New York City on Tuesday.
Decked out in a Miami Beach T-shirt, jeans, black combat boots, hat and shades, Franco and his unidentified lady friend were photographed holding hands as they checked out the Star Struck Vintage Clothing boutique in the West Village.
While his gal-pal browsed the racks inside the shop, the 35-year-old actor hung around the doorway, apparently listening to some tunes on his cell phone and holding a gray sweatshirt.