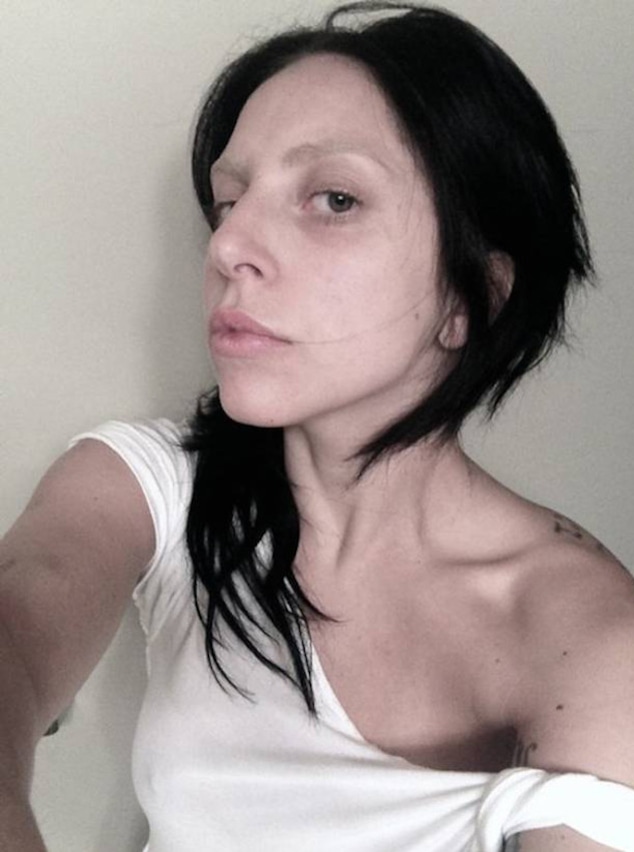 littlemonsters.com
Guess we know what Lady Gaga meant by Born This Way! 
Looking as fresh-faced as the day she was born, the singer shared a makeup-free selfie on her site, LittleMonsters.com.
"ARTPOP as they pry the single from my bleeding fingers," she wrote alongside her au naturel pic. "It's a scary thing to revisit those things underneath, the pain in your past. but all I found was raw passion. I thought I was destroyed inside. I'm just ready to fight. start the music."
Well, OK then!
Perhaps her bare face was her way of artfully illustrating the "raw passion" she refers to?
Whatever the case, it's definitely a revealing look at the artist, who tends to cover up with elaborate stage makeup and costumes. The singer shows off a pale pout and eyebrows that contrast starkly with her unkempt raven hair, which obscures the bald patch she showed off just last week.
Of course, this isn't the first time we've seen Mother Monster sans makeup. She's put down the lipstick and eyeliner for a few selfies in the past, and even agreed to grace the cover of Harper's Bazaar without any cosmetics.
"Whether I'm wearing lots of makeup or no makeup, I'm always the same person inside," she revealed to the fashion magazine. 
And a clean face isn't the only way Lady Gaga has exposed herself lately. The singer recently ditched her clothes for a nude spread in V Magazine that was shot by Dutch fashion photographers Van Lamsweerde and Vinoodh Matadi.
The revealing pics of the attention-grabbing songbird come less than a month before the first single off of her upcoming album ARTPOP is set to drop on August 19.
What do you think of Lady Gaga's makeup-free selfie?