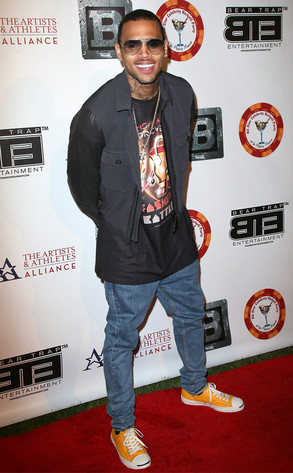 David Livingston/Getty Images
UPDATE E! News has now learned that the woman who was seen with Chris Brown is Halli Sloan and works in public relations in Los Angeles.
According to a source, Sloan "was just walking him down the red carpet" and wasn't at the event as a guest.
________
Brown didn't let his two court hearings yesterday rain on his parade.
The singer was spotted at the Playboy Mansion in Los Angeles merely hours after appearing before a judge for a possible probation violation. Brown was a surprise guest at the 9th annual Celebrate the Game Party, where he was joined by Snoop Dogg and child actor Corey Feldman.
Rihanna's ex appeared to be all smiles as he posed on the red carpet before heading into the event with a mystery gal.
Brown hugged the brunette, who was wearing a skintight white dress, and entered the party with her.