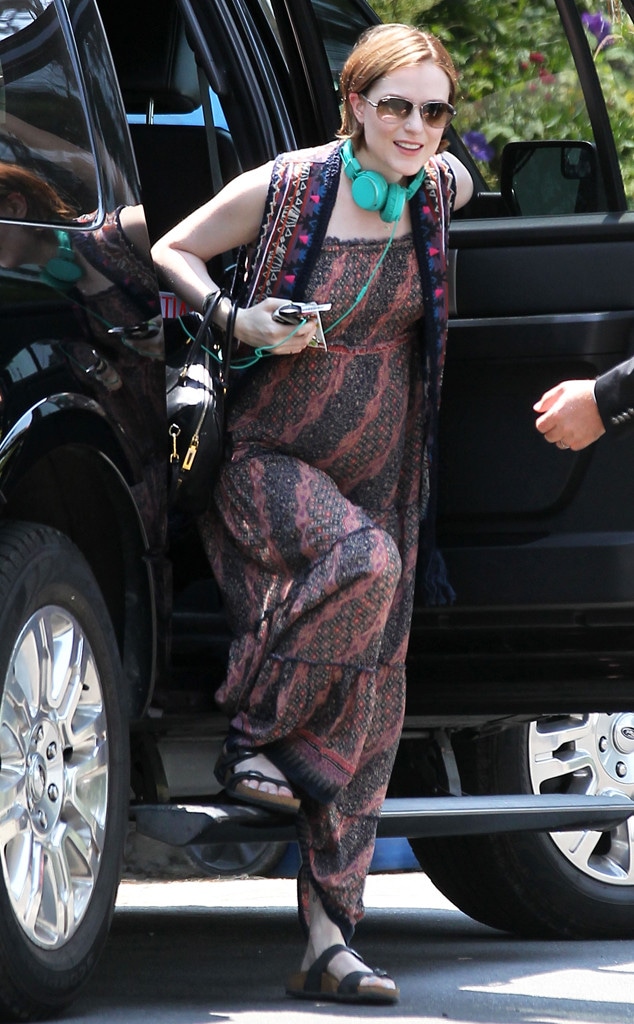 Goodwin/Pablo/FAMEFLYNET PICTURES
Evan Rachel Wood's baby bump is getting bigger and bigger!
The pregnant actress stepped out in Hollywood yesterday, sans husband Jamie Bell, showing off her growing belly.
Dressed in sandals and a floor-length printed maxi dress under a colorful vest, Wood was snapped stepping out of an SUV and arriving at a friend's house. The 25-year-old actress completed her casual daytime look with aviator sunglasses, a black purse and teal headphones
Wood has been taking I easy the past few months as her due date quickly approaches. Aside from a little pillow shopping here and there, Wood told E! News at the end of April at the Tribeca Film Festival in NYC that, "This should be it for a while, and then I'm just gonna be sitting and cooking and waiting."
Before that, Wood hit the Tribeca Film Festival Vanity Fair red carpet in a sleek black dress that showed off her baby bump. She was also busy back in January promoting her film In The Necessary Death of Charlie Countryman at the Sundance Film Festival in Park City, UT.
Wood and her 27-year-old English actor hubby announced they were expecting their first child together on Jan. 11 of this year. "The couple is thrilled," a rep said in a statement to E! News. The announcement came after weeks of rumors that Wood was pregnant. Wood and Bell got married in October 2012 in a small ceremony in front of family and friends in California.
While Wood hasn't been stepping out as much lately, the mom-to-be has been busy on Twitter. While watching TV last night, she shared, "5 min into #raydonovan and I have already seen a priest get murdered and a dead girls boobs. What just happened?" She also tweeted Miley Cyrus, "I got a dollar, i got a dollar, i got a dollar, hey hey hey hey. @MileyCyrus." "Uh oh. The samsung galaxy is waterproof now? That might be a game changer for me," she tweeted in another funny message.
Bell took to Twitter last month to share a special Father's Day message. "To all the expectant fathers out there, enjoy this day. Enjoy your partner. Happy First Fathers Day," he wrote.