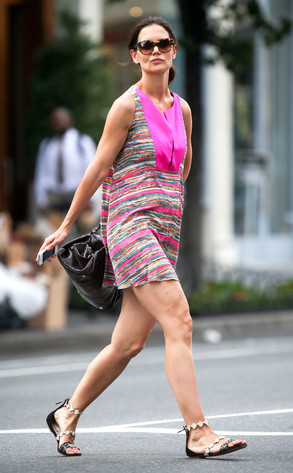 Dave Spencer / Splash News
Katie Holmes defied the horrendously humid weather and outsmarted an overzealous fan Wednesday afternoon in New York City.
Suri Cruises mom was first snapped in the West Village looking chic and stylish in a colorful pink, yellow and green sleeveless dress paired with strappy sandals and a pair of oversized shades. But when a very eager admirer spotted Katie, she did her very best to fly under the radar. According to an eyewitness, the 34-year-old actress dashed into a Nike store, and when she emerged some twenty minutes later, she'd ditched the sundress in favor of a sporty ensemble.
Tom Cruise's ex kept the big sunglasses, but switched into an off-the-shoulder gray shirt, black capri-length workout pants and pink sneakers. She topped off her quick-change transformation by wearing a Yankees cap.