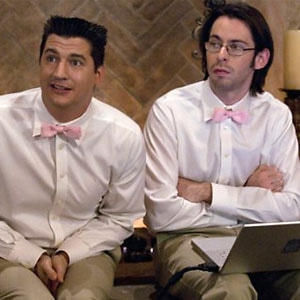 Starz
"Private Eyes Are Watching You. Veronica Mars."
The eternal thorn in Veronica (Kristen Bell) and Keith Mars' (Enrico Colantoni) side is set to return when Veronica Mars hits the big screen in 2014!
Ken Marino aka Vinnie Van Lowe, the Mars' rival private investigator and possible Neptune sheriff, has officially joined the cast of the highly anticipated feature film, creator Rob Thomas announced on Tuesday in an email to Kickstarter backers. "I'm...pleased to confirm that Ken Marino will be returning as Veronica and Keith's would-be competition, Vinnie Van Lowe," he wrote, before sharing a video Marino recorded for fans...in character!

Thomas also confirmed that Martin Starr, one of the stars of his other cult favorite series Party Down, will be in the film as well, writing, "Martin Starr has joined the cast of Veronica Mars in the new role of Lou 'Cobb' Cobbler, another 09'er returning for the ten-year reunion."
And while Starr "never appeared in the show" during its original run, Thomas reveals he was one of the first actors he contacted after reaching the Kickstarter goal. "Once I was confident that we were making the movie, he was one of the first people I called."
Of course, Starr and Marino starred in Party Down, a series whose loyal fanbase has been clamoring for a reunion film, something Thomas acknowledges in his e-mail. "With Martin and Ryan [Hansen] involved—not to mention Kristen, Rico, Jason [Dohring] and Daran [Norris]—there are moments where our set also feels like a trial run for a Party Down reunion."