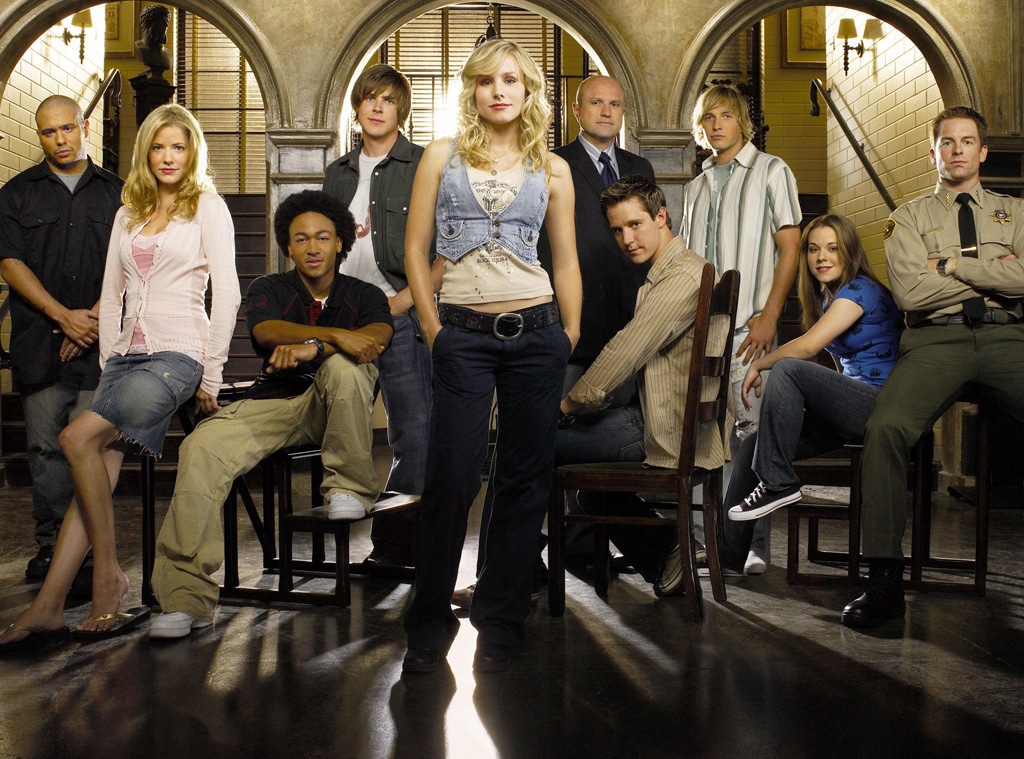 UPN
A long time ago, a Veronica Mars movie seemed like an unattainable dream...
Cut to seven years after the cult hit's series finale and one history-making Kickstarter campaign later and that dream is now a reality, as creator Rob Thomas and star Kristen Bell are set to bring Veronica Mars back via a fan-funded movie in early 2014. Thomas says the film will find Veronica returning to Neptune for her 10-year high school reunion. Damn, it feels good to be a Marshmallow!
We chatted with Thomas, who dropped scoop about the highly anticipated movie and who fans can expect to see return. (Hint: New Girl's lovable douchebag Max Greenfield is totally on board!) Plus, Thomas reveals if he's interested in bringing the series back to the small screen...
After the rabid response to the movie, we had to ask if Thomas was at all interested in relaunching Veronica Mars as a TV series, similar to Arrested Development's revival courtesy of Netflix. 
"We couldn't relaunch a TV series off of the money we're raising on Kickstarter. TV series cost a lot," Thomas explains. "Also, Kristen is already in a series and networks don't usually let the stars of their shows do multiple series." (If only we could hate the awesome House of Lies. Alas, we can't!)
Of course, that doesn't mean Thomas isn't open to to the idea of bringing Veronica Mars back to the small screen. "Trust me, though, if Netflix is reading this, and they want to do a Veronica Mars series, I'd do anything to make it happen," he says. 
Looking at the film, which is set to go into production this summer, Thomas assures us that fans of the TV series will not be in for a rude awakening aka a complete departure from the show they know, love and still obsess over.  
"It's fan funded, and because of that, I'm going to keep it very much like the series. In other words, we're not going to be Spinal Tap playing 'Jazz Odyssey,'" he explains. "We're gonna play 'Big Bottoms,' 'Sex Farm Woman,' all the hits."
As for where we'll find Veronica 10 years after high school, Thomas reveals, "The important thing to know is that Veronica left Neptune and quit her work as a P.I. shortly after our final episode aired. This movie will be about Veronica returning to her roots."
Though Jason Dohring, Enrico Colantoni and Ryan Hansen all appeared in the Kickstarter campaign video, Thomas says only he and Kristen are currently locked into the film. Before fans start rioting, Thomas assures that he's working on getting all of Neptune's finest to return. 
"I hope to have all your favorites in there. That's certainly the plan. It's why I'm building it around the high school reunion," he explains. "But Kristen and I were the only people locked into the movie before we launched the Kickstarter drive, so I can only promise Kristen and I are doing the movie. That said, I've talked to all the actors. Everyone wants to do it. We want everyone. We just need to get actors into deals so we can promise them." 
Thomas was willing to divulge one familiar face fans can expect to see on the big screen: Deputy Leo, played by the Emmy-nominated Greenfield! "Max is driving a hard bargain to reprise his role as Deputy Leo. His direct quote was that he'd take no pay and fly himself to set," Thomas says. "He'll be the Leo we've known and loved. We'll find him working as a detective for the San Diego Police Department."
To say Thomas and Bell's Kickstarter campaign was a success is putting it mildly; the $2 million goal was reached in less than 11 hours and it was the fastest project to ever hit $1 million. "I couldn't quite fathom it," Thomas says of the response. "I was confident and I had high expectations, but even when I was thinking optimistically, I thought we'd hit our goal in the first five days to a week." 
Well, you know what they say: Veronica Mars fans, they're marshmallows.
Thomas and Bell's Kickstarter campaign has currently raised over $3.6 million dollars and fans can donate until April 12.
How excited are you about the Veronica Mars movie? Anyone you'd love to see return? Would you want to see the series come back on Netflix?Sound off in the comments!