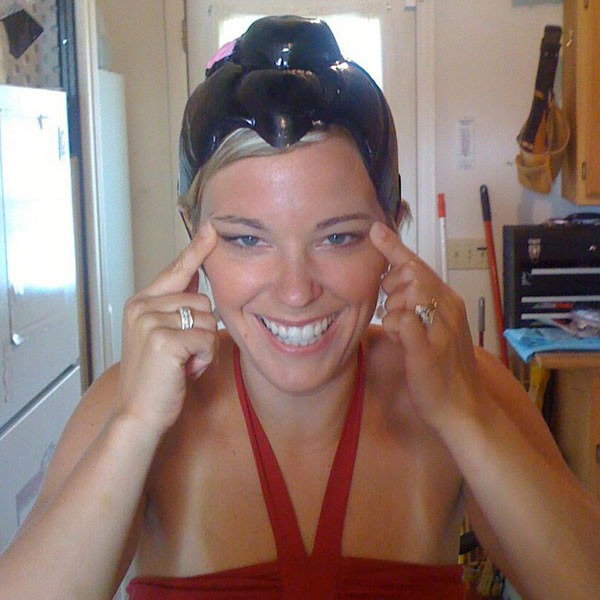 katiedeen888kat/Twitter
Kate Gosselin wants her fans to know the controversial Twitter pic making the rounds online purportedly showing her mocking Asians is not what it seems.
The ex-TLC star explained on her blog Tuesday that the "personal photo" in question—which she was quick to note was stored on her "home computer" and released to the public without her consent—was actually a "happy memory" for her and her family. And if anything, those slanted eyes she was making were meant as a compliment to her biracial family's Asian roots, not an insult.
"It was a happy time for me and Jon, smiling and 'goofing off' together," she wrote. "Jon and I were opening fan mail together one afternoon—which often filled the garage of our Elizabethtown home—and when we opened this plastic Asian dress up wig sent from a caring fan, we smiled, each taking turns posing in it and snapping photos (on my phone) of each other. Naturally, I 'slanted' my eyes to show him my best Asian impression, which made him smile."
Gosselin added that the fan sent the attire so she could "be Asian" like the rest of her family—appropriate since her hubby is third-generation Korean American on his mother's side. 
She also pointed out that their reality show, Jon & Kate Plus 8, had been addressing the clan's Asian heritage in depth when they snapped the image.
"At that time, a common topic of our show was 'everybody's Asian'— except for mommy, so a thoughtful fan figured she'd help me look Asian too!" stated Kate. "It's normal to talk about and even 'exaggerate' the feature differences between family members of a biracial family as they are noticed by curious growing children within the family. These types of discoveries and at home discussions are a normal part of being a loving accepting biracial family and it does not make any of us prejudice!"
Gosselin categorically rejected suggestions there was any racist intent behind the pic.
"I married an Asian. I have eight biracial children therefore I'm quite certain that I'm the last person that could be called a racist," she argued.
Kate also wrote that the photo and others like it that were uploaded to the Internet were "opportunistically turned into something that it never was intended to be." But she did not speculate about who she thought might be behind the privacy violation.
A rep for Gosselin was unavailable for comment.