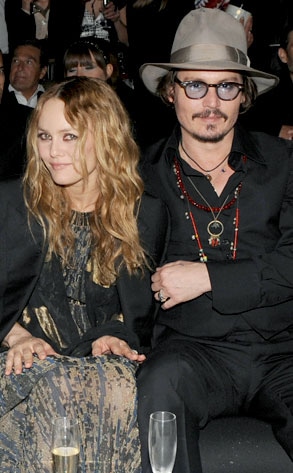 ANG/Fame Pictures
Johnny Depp is finally breaking his silence on his split from ex Vanessa Paradis, more than a year after the couple of 14 years called it quits.
"The last couple years have been a bit bumpy," Depp tells Rolling Stone in their latest issue. "At times, certainly unpleasant, but that's the nature of breakups, I guess, especially when there are kiddies involved."
Depp and Paradis, who together have a daughter, Lily-Rose, and a son, Jack, officially announced their amicable separation in June 2012.
"Relationships are very difficult," Depp tells the mag. "Especially in the racket that I'm in because you're constantly away or they're away and so it's hard. It wasn't easy on her. It wasn't easy on me. It wasn't easy on the kids. So, yeah. The trajectory of that relationship—you play it out until it goes, one thing leads to another. So for whatever reason that ­ceases, it doesn't stop the fact that you care for that person, and they're the mother of your kids, and you'll always know each other, and you're always gonna be in each other's lives because of those kids. You might as well make the best of it."
Since the breakup, Depp has been getting close with his Rum Diaries costar Amber Heard. Just last month, the couple enjoyed a romantic dinner date at Ago in L.A.
In August of last year, Paradis told Harper's Bazaar post-split, "When you meet the love of your life, it's just obvious and natural and easier," she said. "Sometimes you could be in an unhappy relationship; you are very much in love with someone, but it's making you unhappy and you think things can change and you can work it out."