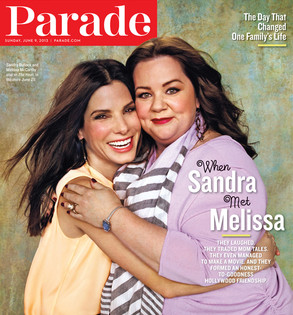 Parade
Sandra Bullock and Melissa McCarthy didn't just work well together on the set of The Heat—they became real-life BFFs!
In Sunday's Parade magazine, the dynamic duo open up about their insta-friendship and how motherhood bonded them far beyond filming.
"Having kids connected us on a deeper level," Bullock, proud mom to 3-year-old Louis, says. In fact, McCarthy has been spotted bringing her daughters Vivian, 6, and Georgette, 3, to playdates with little Louis in the past few months.
And both women, as doting and hands-on as they might be, worry about whether they're being good moms.
"It plagues me. I feel intensely guilty for working," says McCarthy. "You have to be able to provide for your kids. But I feel like it's a weird modern phenomenon that you always feel guilty for it."
Bullock also admits to dealing with her own struggles when it comes to motherhood.
"I don't know if I feel like a bad mom, but at the end of the day I'm always plagued with, did I do enough?" Bullock says. "Should I go in a different direction? But I also know that my entire life revolves around Louis."
According to Bullock, she and McCarthy are both "obsessed" with "construction and house renovation", noting: "We're kindred spirits in that world. If we had a beer den with Barcaloungers—but our version of that—it'd be great."
And aside from discovering a true friend, Bullock loved getting "to do a female buddy film, the kind the guys get to do," adding that The Heat "didn't have anything to do with getting a guy, and it didn't involve shoe shopping."
Amen, sister.
For more on their feelings about the impact of fame and paparazzi on their families, and why Sandra's son, Louis, has been called "an angry kid," go to Parade.com.