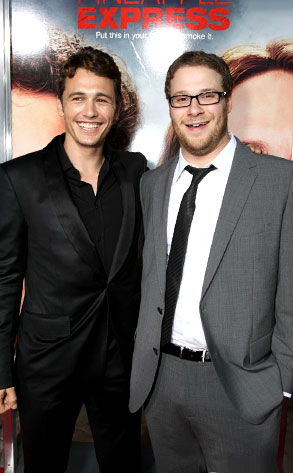 Eric Charbonneau/WireImage.com
Seth Rogen and James Franco are headed to North Korea.
Well, not really. But the Pineapple Express pals are reuniting for their upcoming comedy The Interview, in which they travel to the controversial Asian country.
"It's about two journalists that try to assassinate the president of North Korea while interviewing him," Rogen told us at last night's premiere of his new movie This Is the End.
"It's Kim Jong-un," Rogen dished. "Literally King Jong-un in the movie. We figured it's North Korea, you might as well make it Kim Jong-un."
"James and Seth play reporters who get an interview with the dictator of North Korea and the CIA asks them to kill him," Rogen's Interview producer pal Evan Goldberg added. "They're going to play a--holes."
The actors won't actually be going anywhere exotic to film the flick. Goldberg said, "We're going to the foreign land of Vancouver, Canada."
Meanwhile, Goldberg, who codirected This Is the End with Rogen, says out of the many celebrity cameos in the movie, there's one performance that stands out. "Michael Cera's performance in this is astounding," he said of the Arrested Development star, who plays a coke-fiend sex addict in the film. "Daniel Day-Lewis is probably closer as a human to the character of Abraham Lincoln than Michael Cera is to what he did in this film."