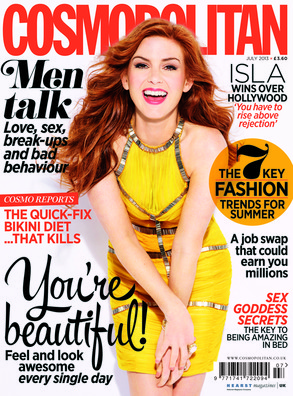 Cosmopolitan
It's safe to say Isla Fisher hit a few bumps in the road before she made it big in the Hollywood biz.
"I really have had no help," the redheaded beauty reveals in the July issue of Cosmopolitan U.K. before admitting she was once rejected by her then-boyfriend (and current hubby) Sacha Baron Cohen's agent.
"In fact, the one time I did ask for help was after my agent in L.A. fired me," she reveals. "I was auditioning for all sorts of things but kept getting told 'no,' so she just fired me! So anyway, I said to Sacha, who was my boyfriend at the time, 'Can you ask your agent if they'll represent me?' And his agent said, 'No way.' It was the only favor I'd ever asked, and I was like, 'OK… great.' But it spurred me on."