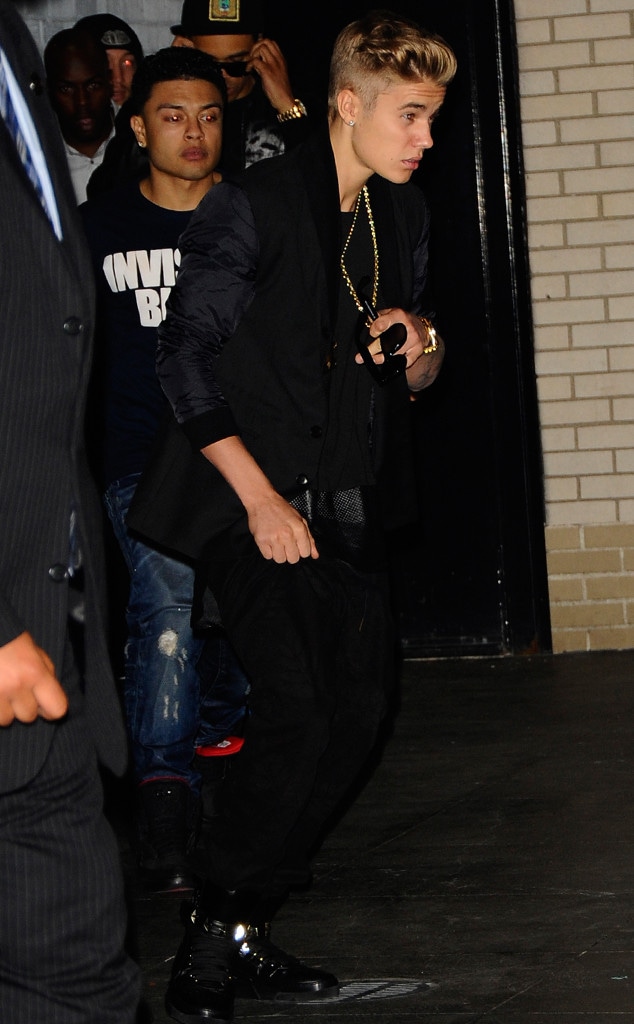 Splash News
It's been quite a busy week for Justin Bieber.
The Biebs has been making headlines after appearances on both coasts in just a matter of days.
Between reckless driving allegations and club hopping in the Big Apple, it's not wonder all eyes are on the "Boyfriend" singer.
E! News has compiled a timeline of the week that was for the 19-year-old.
Sunday, May 26, 2013: Biebs starts off his week relaxing over the holiday weekend at his Calabasas, Calif., home. When he catches photogs trying to snap his leisurely day off, he lifts up his shirt to reveal his supertoned abs.
Sunday, May 26, 2013: After just a few short days off from Twitter, Biebs makes a triumphant return and explains his social media hiatus, saying, "U guys miss me on here. Just needed to take some time to myself."
Tuesday, May 28, 2013: Police visit the singer's home in response to calls complaining about his alleged reckless driving within the gated community.
Wednesday, May 29, 2013: E! News reveals that Bieber's neighbor NFL star Keyshawn Johnson confronted the singer during his speedy driving incident days prior and had originally placed a call to the cops.
Wednesday, May 29, 2013: Despite being under the spotlight for his driving, the "Beauty and a Beat" singer took some time to post a reflective selfie on his Instagram account with the caption reading, "My vision is enormous."
Thursday, May 30, 2013: Bieber flew to NYC to catch the premiere of his BFF's Jaden Smith's newest flick After Earth. The 19-year-old snuck in the back of the premiere theater and skipped the red carpet.
Thursday, May 30, 2013: After catching Jaden's premiere, Biebs was seen club-hopping at some of NYC's hippest hot spots.