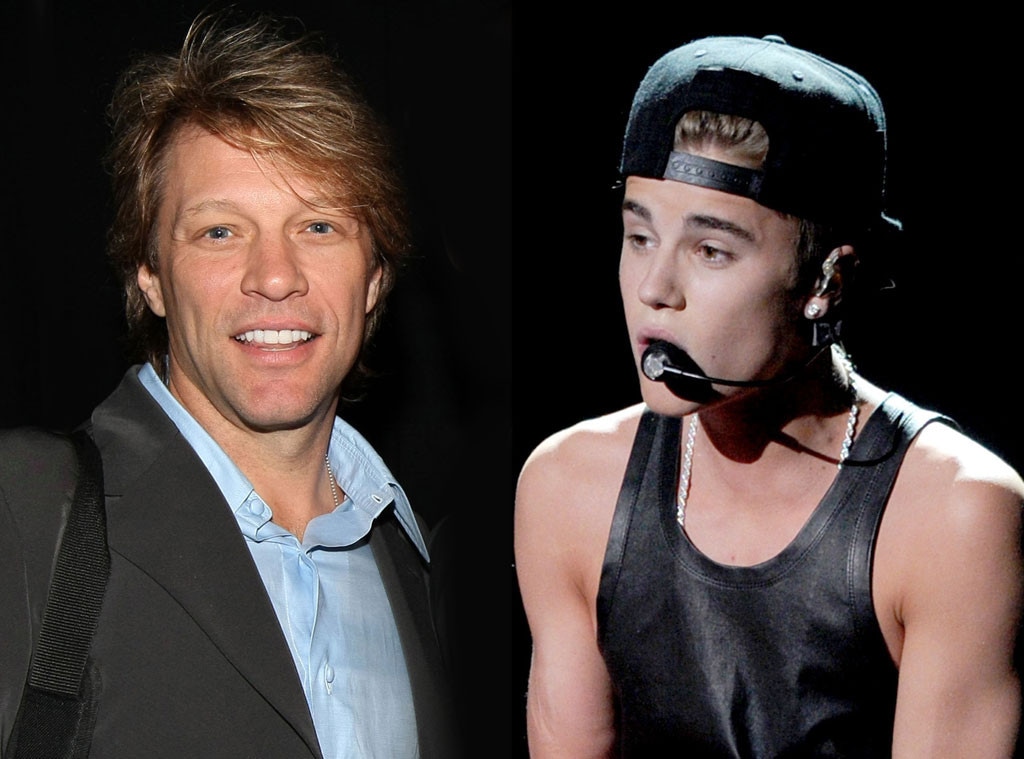 Justin Sullivan, Kevin Winter/Getty Images
Jon Bon Jovi has a message for Justin Bieber: get your act together, man!
In an interview with the London Evening Standard, the New Jersey rocker took the teen heartthrob to task for what he labeled unprofessional behavior—this after he was asked about Bieber turning up two hours late for a March concert at London's O2 Arena and then blaming his tardiness on "technical issues."
"Every generation has guys that do that, none of that is new," the 51-year-old Bon Jovi told the newspaper during a tour stop in Vienna on the European leg of Bon Jovi's Because We Can tour.
"They run the risk of disrespecting their audience members who have worked hard to pay for their ticket, to give you the permission to take two or three hours of their lives—or in that kid's case, 80 minutes of their lives."
Bon Jovi, of course, is no slouch when it comes to live performances in his three decade-strong career, with he and his band frequently playing gigs that last over two-and-a-half hours. But the rocker has a dim view of artists who don't respect the fans who turn out to support them.
"Do it once, you can be forgiven," the "Bad Medicine" singer said. "Do it enough times and shame on you. They won't have you back. Then it just becomes a cliché. It's really not cool—you're an a--hole. Go to f--kin' work!"
Ouch!
No word whether Bieber will take Bon Jovi's advice to heart. A rep for the "Girlfriend" crooner was unavailable for comment.
Bieber did post a mysterious message however on Twitter yesterday in which he wrote, "Gonna take some time." He also has at least one fellow musician in his corner who might disagree with Jon Bon's criticism. 
Shortly after Justin was raked over the coals for his "rock star" antics, former Oasis frontman Liam Gallagher came to his defense, telling Shortlist that "anyone who goes on two hours late is f--king right in my book, man…So get off his f—king back, man: I am a Belieber."
And in Bon Jovi's book, he might be something else too.