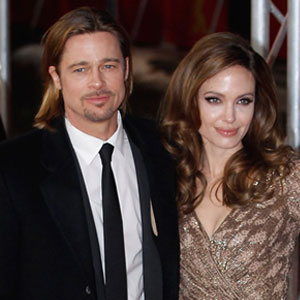 Frederic Nebinger/WireImage
If you ask Brad Pitt, Angelina Jolie's decision to undergo a preventive double mastectomy was nothing less than "heroic."
Speaking for the first time since the Oscar winner went public about her surgery Tuesday, Pitt said he's 100 percent supportive of his partner taking steps to reduce her risk of cancer, which runs in Jolie's family.
"Having witnessed this decision firsthand, I find Angie's choice, as well as so many others like her, absolutely heroic," he told London's Evening Standard. "I thank our medical team for their care and focus."
Pitt added: "All I want…is for her to have a long and healthy life, with myself and our children. This is a happy day for our family."
In a New York Times op-ed, Jolie wrote that she carries the "faulty" gene BRCA1 and had an 87 percent risk of developing breast cancer and a 50 percent risk of getting ovarian cancer in her lifetime.
Given that her mother, Marcheline Bertrand, died of ovarian cancer in 2007 at age 56, the 37-year-old actress chose to be "proactive" and "minimize the risk" so she could be there in the future for the couple's six children.
Jolie subsequently underwent three operations between February and April that saw tissue from both breasts removed. However she was able to keep the nipple, thanks to what she described was a painful procedure called a "nipple delay" followed by reconstruction with implants.
Now that it's over, the thesp revealed that her risk of getting breast cancer has since dropped to under 5 percent, so having a mastectomy was a decision she was happy to make.
"I can tell my children that they don't need to fear they will lose me to breast cancer," she wrote.
Jolie added that she's lucky to have a partner in Pitt, whom she called "loving and supportive" and was there for her "every minute of the surgeries."
"We knew this was the right thing to do for our family and that it would bring us closer. And it has," she said.