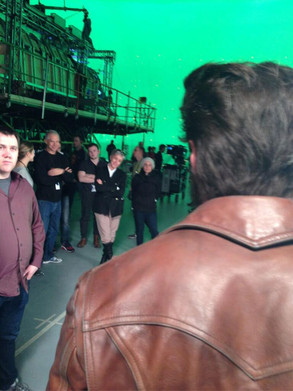 Twitter
Director Bryan Singer is continuing to document his days on the set of X-Men: Days of Future Past and, this time, he has thrown Wolverine into the mix.
After providing fans with multiple candid glimpses into the creative process via Twitpics a couple weeks ago, Singer posted a new photo today, showing Hugh Jackman from behind in his Wolverine get-up, arriving on set. (Well, the back of his head anyway. Don't get too excited.)
"Fitting @RealHughJackman," Singer wrote.
Also shown in the photo are multiple crew members in front of a gigantic green screen, eyeing the actor's costume--and they seem pleased!