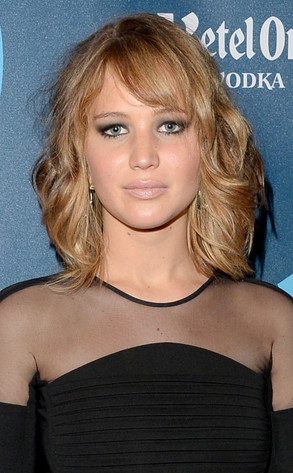 Jason Merritt/Getty Images
With everyone abuzz over the shorter 'do Jennifer Lawrence debuted at Saturday's GLAAD Awards, many fans may have overlooked the fact that the star also lightened her lovely locks.
And while it doesn't come as too much as a surprise that the Oscar winner embraced Hollywood's hottest long bob hair trend, it turns out she had a pretty practical reason for brightening her tresses.
"After tinting her hair dark for the Hunger Games, Jennifer was ready for her sexy, fresh layered bob and wanted to finish getting back to her naturally blonder locks," her colorist Lorri Goddard told us. "So, she came in and asked to go as blond as we could to get out the remainder of the brunette color that was lurking under the partial wig she wore to create her character for the new David O. Russell film."