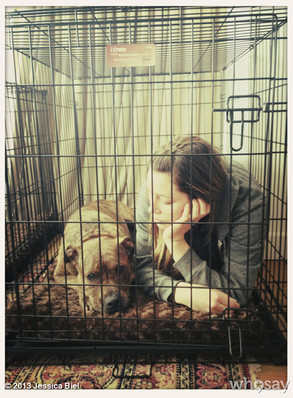 Courtesy: Jessica Biel/WhoSay
Jessica Biel doesn't miss a beat with her Twitter tradition of "Tuesdays with Tina."
The 31-year-old star's weekly snapshots hilariously narrate what life is like for the pampered pooch.
But the latest pic of her 55-pound pit bull, Tina, is overshadowed by Biel herself, who appears inside of her pup's crate.
The adorable photo is captioned: "It's okay Tina, sometimes boys don't call back. #crateconfessions#tuesdayswithtina"
Justin Timberlake's wife gazes at her four-legged friend as she stares directly into the camera and appears melancholy.
This, it seems, is girl talk taken to a whole new level.
Timberlake and Biel are also parents to dogs Brennan, Buckley and Billie.
It's a full house for the happy newlyweds!