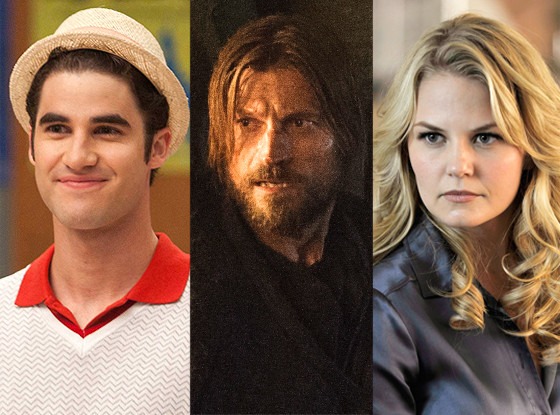 Helen Sloan/HBO, ABC/CHRIS HELCERMANAS-BENGE, Courtesy of Fox
TGIF, y'all. TGIF.
Let's start this Friday off right with some spoilers on your favorite shows, shall we?! In today's Spoiler Chat, we've got scoop on the Game of Thrones scene everyone will be talking about on Sunday night, plus details about the season finales of Once Upon a Time and Glee, including bonus teases for next TV season!
Plus, we've got an ab-tastic Arrow  tease, as well as scoop on True Blood, Mad Men and more!
Brandon: What's coming up on Supernatural?
An epic showdown between Dean and Castiel! Meaning, Jensen Ackles and Misha Collins are facing off in the final round of our Alpha Male Madness tournament, so may the best man win!
Leandra: Wow, in desperate need of Glee scoop after last night's crazy-emotional episode!
Let's pick up the mood with a fun season finale tease, shall we? In the season four closer, we'll meet two extremely smart professors from MIT, so it sounds like yet another glee club member will be heading to the East Coast in season five. Any guesses?
Bryan: GOT! GOT! GOT!
We're confused, do you want scoop on Game of Thrones? We're hoping so 'cause Nikolaj Coster-Waldau teases that the end of Sunday's episode is not to be missed. "I can't wait to hear the reaction at the end of this Sunday's episode," he says. "It's very dramatic." While we won't say what happens, we will spoil that Jaime is involved. You'll get no more out of us!
Dina: I am going through Once Upon a Time withdrawals. Got any scoop on what to expect?
A trip to a new land…possibly a permanent one! "They sort of set up that we are maybe heading to another land. They've teased that at the end of season two," Jennifer Morrison teases of season three. "I will be interested to see how we are all impacted by that new land. I think whenever we're in a place where everyone's relationships are impacted by their environment and it heightens the stakes for everyone, it becomes very interesting drama."
Fiona: Bummed that Arrow didn't consult with me first before taking a week off! Do you have any spoilers on Roy Harper that will fill the void?
Prepare to see a much bigger Roy in season two! "I have to gain another 25 pounds of muscle," Colton Haynes teases, "so I have a feeling that I'm going to have to possible be wearing a suit of some sort." Two words: Hell! Yes!
Adrianna: Can't believe Don is once again cheating on his wife on Mad Men! Where is that storyline heading?
Come on, girl, you know the saying: Once a cheater, always a cheater. As for Don's dynamic with Sylvia, her portrayer Linda Cardellini tells us, "I cannot say," when it comes to getting more risqué. But, she adds, "I will not be letting my daughter watch that anytime soon!"
Shannon: Still reeling over Danny's ex-wife coming back at the end of The Mindy Project's latest episode? Since we didn't get to see much of her, what can we expect from Christina?
What, you couldn't tell her life story from the one line she had?! "'Is she supposed  to be crazy? Is she supposed to be nice?' They were like, 'I don't know. Just try it all different ways!'" Chloe Sevigny tells us of filming her first scene, so even she wasn't sure who Christina was at first. But we can tell you that she's nice 'n' suspicious of Danny and Mindy's relationship.
Eliza: We're less than two months away from the new season of True Blood, so how about some scoop to celebrate?
Well, can the possibility of death really be cause for celebration? Oh, all right. Take it away, Joe Manganiello: "We're in the middle of episode six, moving right along. Right now, we still have the big cast with the big table-reads, but pretty soon everybody's going to start getting knocked off!" Yikes! As for the latest showrunner swap, Manganiello says, "I think with Brian Buckner replacing Alan Ball there's maybe some hair being let down, maybe some 'let's get wild, let's get crazy!'"
—Additional reporting by Jenna Mullins, Tierney Bricker and Marc Malkin

Want your TV questions answered in our next Spoiler Chat? Email them to tvdiva@eonline.com or tweet at @KristinDSantos!