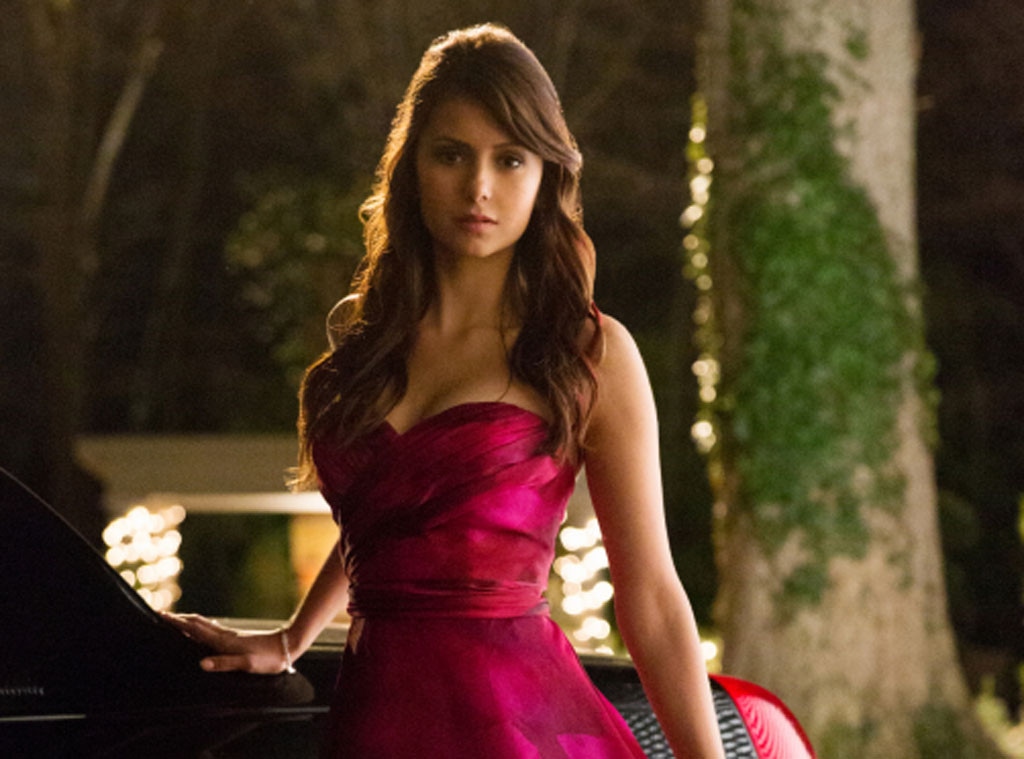 Bob Mahoney/The CW
What better way to welcome a new month than with a fresh batch of warm, delicious scoop in the morning?
In today's epic Spoiler Chat, we've got spoilers on The Vampire Diaries' upcoming shocker that will change everything, Glee's surprising new romance that fans will never see coming and the latest surprising fairy-tale twist on Once Upon a Time! But that's not all, there's also juicy tidbits on The Walking Dead's fourth season and The Office's mind-blowing reveal in the series finale!
Plus, we've got scoop on The Following, The Mindy Project and more!
Bea O'Problem: I can't believe this is the last season of The Office! Can I get spoilers on the finale?
Michael Scott will return for the final episode! Unfortunately, right after we see him back at Dunder Mifflin, we find out that the entire series of The Office has been in the head of a former FBI agent who went crazy after the death of his wife. The agent's name? Michael Scarn. Basically, it's another St. Elsewhere situation.
Seymour Butts: Give me scoop on The Vampire Diaries or give me death!
Stephenie Meyer will probably be putting in a call to her lawyer soon as the CW hit is taking a page of out Breaking Dawn. Literally. One of the show's lady vamps is with child! And more than one guy on the show could be the father.
I.P. Freely: I am dying for some juicy Glee spoilers!
Guess who will be hauling ass to New York to confess his true love to a certain someone? Blaine! The twist is, Blaine won't be telling Kurt his true feelings…he'll be pouring his heart and soul out to Brody. Though they barely know each other, what little time they shared together blossomed into a cross-country Internet relationship that nobody knew about. First, Blaine will forgive the Brodster for that whole being an escort thing, and then he will get down on one knee and serenade him with an acoustic version of Nelly Furtado's "I'm Like a Bird." That's there song, you know.
Drew P. Weiner: In need of Once Upon a Time spoilers, stat!
The show is really making the most out of having access to the Stars Wars universe as the finale will reveal that Emma is actually the reincarnation of Princess Leia. And yes, Chewbacca will make an appearance. (We hear they are courting Matt Damon to don the iconic suit.)
Hugh Jass: When will we find out who the mother is on How I Met Your Mother?
Never. Ted actually ends up using a surrogate to carry his child. And that surrogate…is Lily! So who does Ted get to be the biological mother of his children? Britney Spears! That's right, Abby comes back, still in love with Ted and more than willing to be the mother of his children. Ted, having run out of options after eight seasons, decides to go through with it. And that, kids, is how he met your mother.
Ura Snotball: The Walking Dead finale was bonkers! Now I need season-four scoop, so please help!
Season four is where the group will discover that the zombies they have been seeing (and killing) are actually not zombies. They are just folks who are really, really, really, really tired. Five years before the pilot, Starbucks went bankrupt and locusts took out the world's population of coffee beans. The human race started to go through caffeine withdrawal and stumbling around like, well, a bunch of zombies. Those who relied on green tea or other means of waking up in the morning were not affected. And we all know Rick was a Red Bull kind of man in the morning.
Jacques Strap:  I demand spoilers on The Mindy Project finale!
Oh, you thought New Girl landing Taylor Swift as a guest star was cool? Well, The Mindy Project just upped the ante as One Direction's Harry Styles is set to woo Mindy and fly her to places she's never been.
Mike Rotch: OK, The Following is getting out of control. Is anyone not a follower?!
Hate to break it you, but at this point, Ryan seems to be the only non-follower. Proof: An upcoming episode will reveal that the President of the United States is one of Joe Carroll's devotees. Friends in high places are very good to have!
...
APRIL FOOLS! You didn't think we were serious with these spoilers, did you?
Happy April Fool's Day! Be careful out there.
—Additional reporting by Jenna Mullins and Tierney Bricker 

Want your real TV questions answered in our next Spoiler Chat? Email them to tvdiva@eonline.com or tweet at @KristinDSantos!