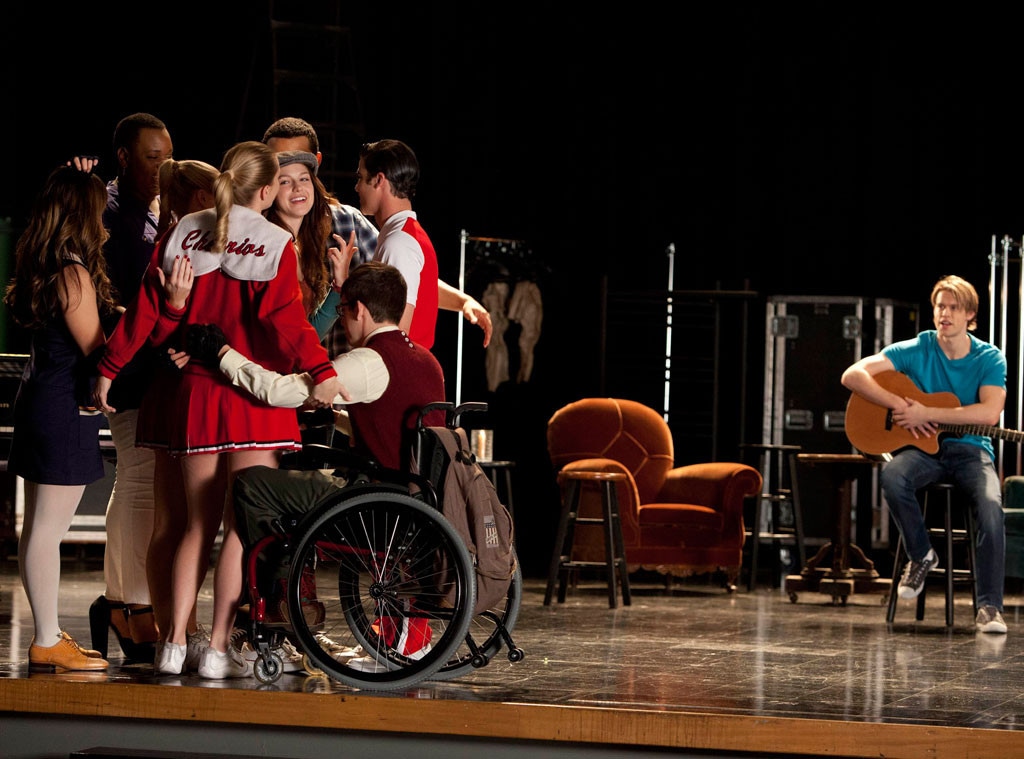 Adam Rose/FOX
Some of your favorite TV shows are about to get a little darker.
In today's Spoiler Chat, we've got scoop on a major event going down on Glee and which fan favorites viewers won't be seeing for a bit, a beloved character's rough season coming up on Game of Thrones and New Girl's romance drama in the season finale! Oh, and there's some 90210 series finale thrown in there for good measure, plus spoilers on Once Upon a Time, Criminal Minds, The Carrie Diaries and more!

Johanna: Dying for some scoop on The Carrie Diaries?! Please tell me it's coming back for a season two!
The CW has yet to renew the retro charmer for a sophomore outing, but we can tell you that season two would take place in the summer with at least two of the characters living in New York City, Glee's Rachel and Kurt-style.
Tammy Q.: Another day, another time I ask for Nick and Jess scoop for New Girl.
That felt like a subtle dig at us, but we'll take it. Nick and Jess fans will love the season finale, because those two will be forced to talk about their situation. And by "forced" we mean, "maybe trapped somewhere together."
Robert: I need some scoop on my favorite Game of Thrones character: Tyrion!
Ah, season three will be tough for everyone's favorite Lannister, at least in the beginning. Look for Tyrion to receive one epic emotional beatdown from his father, Tywin, in the season premiere, as well as a new gig in King's Landing in a later episode. Hey, it could be worse: He could be in his brother Jaime's position.
Monica854: Anything crazy good coming up on Glee?
Ummm...Emphasis on crazy. In the April 11 episode, there is an "unthinkable event," and we can't spoil what the event is, but we can tell you that the episode will take completely at McKinley High, so we won't see the NYC gang at all in this episode. When we meet up with the NYC-ers again, Rachel will be busy prepping for her Funny Girl audition, and there will be only five episodes left for the season! So the storylines are definitely ramping up, and there will be some scandalous reveals before the season ends in May.
Jenna: What's happening with Liam and Annie in the 90210 finale?!
We'd never want to spoil the CW soap's series finale for you all, but let's just say long-suffering Lannie shippers will not want to miss it. In a good way. Trust us.
Amanda in Seattle: Once Upon a Time scoop?
This scoop is Once Upon a Time-adjacent, so it counts right? This little casting info has to do with the OUAT Alice in Wonderland-themed spinoff. ABC is looking for someone to play a mental hospital psychiatrist for scenes set in Victorian England. Alice's doctor, perhaps? Well, there might be Mad Hatters involved.
Mike: So sad to see Criminal Minds on the TBD list in your CBS story about renewals. Can I get scoop to make me feel better?
TBD doesn't necessarily mean definitely canceled. But we will give you some cheer-up scoop! The penultimate episode of (maybe) Criminal Minds final season will revolve around a case involving a baggage handler who goes on a murdering spree to get revenge after this daughter dies of an ecstasy overdose. You know, the usual lighthearted stuff we expect from Criminal Minds.
Morgan: The Suits finale left me hanging! What's going to happen with Mike and Rachel?
Probably not anything soon, seeing as Mike will be going through a bit of a rough patch from being kept out of the courtroom. And the person who gets him out of his funk is the last person you'd suspect to come to his aid.
—Additional reporting by Jenna Mullins and Tierney Bricker

Want your TV questions answered in our next Spoiler Chat? Email them to tvdiva@eonline.com or tweet at @KristinDSantos!