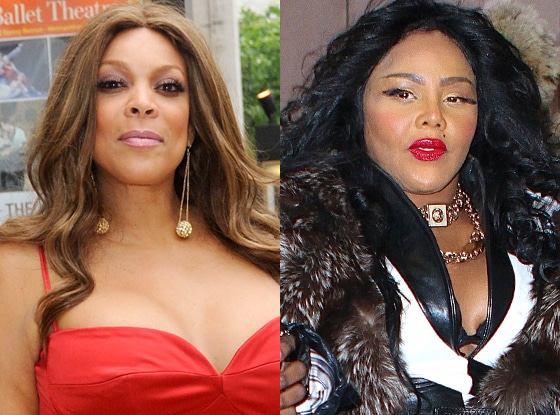 Splash News; Rabbani and Solimene Photography/Getty Images
Lil' Kim is tweeting mad!
The rapper took to Twitter yesterday to blast Wendy Williams after the talk-show host made comments about Kim's seemingly ever-changing appearance.
"Do you want to talk about Lil' Kim and that face of hers?" Williams cracked during the Hot Topics segment of yesterday's Wendy Williams Show. "It's filled so tight now, Kim, it looks like a pin would just pop you."
"Kim, in my mind, I know your goal was always to look like La Toya Jackson," she continued. "You've out-La Toya'd La Toya in your new look, and don't blame Photoshopping. Blame your plastic surgeon, girl."
Kim later unleashed (then deleted) on Williams via Twitter for the plastic surgery jokes.
"@WendyWilliams Bitch Y didn't u show the side by side pic," the Grammy-winner posted. "This pic is photoshopped & U know it. U hating Bitch."
"@WendyWilliams A bad angle will never make me look like that."
The feuding didn't stop there.
"@WendyWilliams Stop hating on me because U sucked Big's d--k & he didn't want nothing to do with yo ass after that."
And finally, "@WendyWilliams it's time for the world to know the real. I'm not playing with yo ass no more. Let's get it!!!!!"
Maybe Williams will think twice next time she wants to trash talk Lil' Kim!