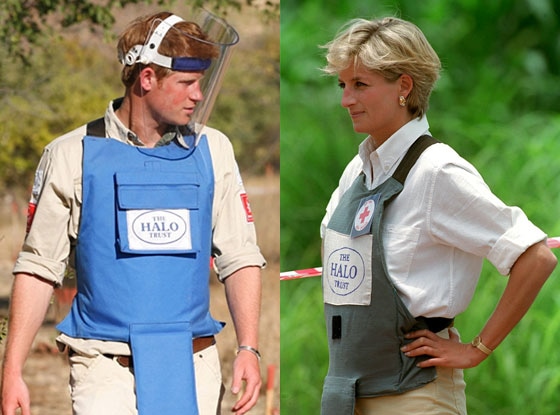 The HALO Trust/Getty Images, Tim Graham/Getty Images
Like mother, like son: Prince Harry is keenly following in Princess Diana's humanitarian footsteps.
The royal announced Thursday that he will assume the role of patron to the anti-landmine charity organization that the late Princess of Wales passionately championed during her lifetime.
The 28-year-old will now be taking an active leadership role in the Halo Trust, which is committed to clearing landmine-infested areas around the world.
"Prince Harry has had a longstanding connection with the charity and visited minefields in Tete Province, Mozambique, in 2010 where he met amputees, and saw for himself the devastating impact that landmines have on some of the poorest people in mine-affected communities," a palace rep said in a statement. "During his trip to Mozambique he was shown the painstaking process of humanitarian de-mining."
In 1997, just seven months before her death, Princess Diana was famously photographed donning protective armor and a visor during a trip to Angola, where she met with landmine victims to raise awareness of the issue.
In its statement, the palace also announced that Prince Harry would assume the role of patron for the Rugby Football Union's All Schools program, which seeks to encourage more secondary schools in the U.K. to play rugby union.
Prince William's brother recently completed a charity trip to Africa on behalf of his nonprofit Sentebale, which provides assistance to children living with HIV/AIDS and other diseases.
As part of the tour, the royal traveled to South African and Lesotho, where he visited schools for blind and deaf children.
During a gala dinner in South Africa, he told attendees that he hoped his late mother "will be proud" of him. With his involvement in these charities, few would now doubt that.