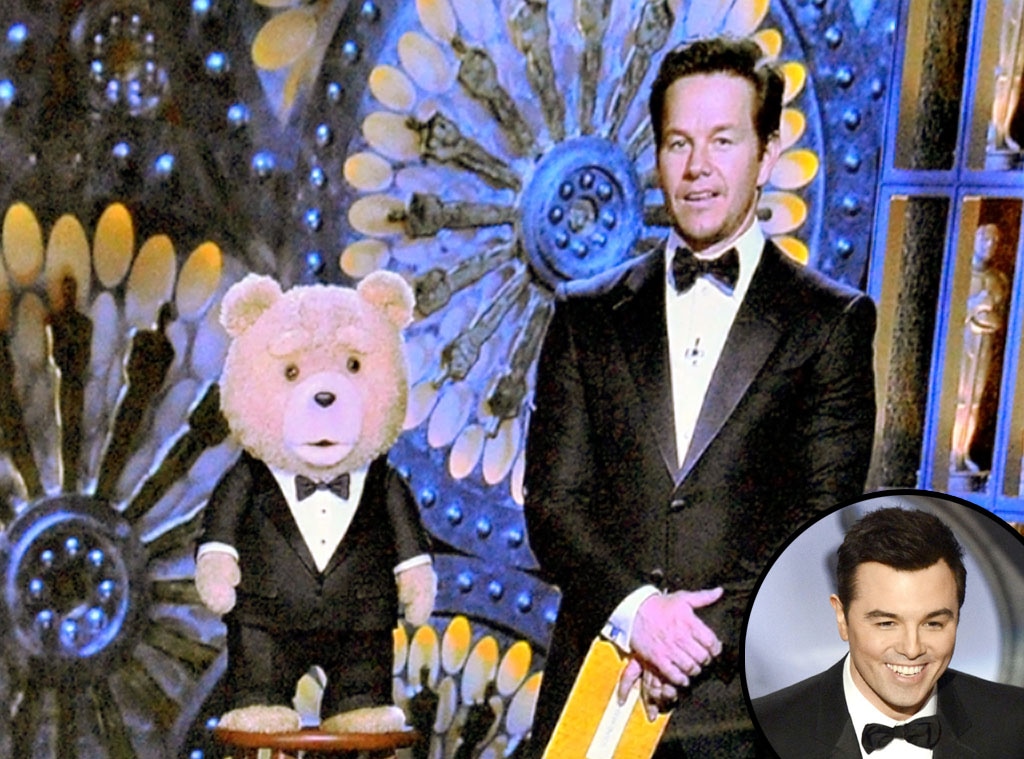 BECK ROBYN BECK/AFP/Getty Images
If you hire Seth MacFarlane to host the Oscars, you know you're gonna get a certain amount of his signature irreverent humor. But we're not sure the Academy was expecting this.
While the Family Guy mastermind kept last night's ceremonies relatively dignified compared to the potty humor of his TV toons, one joke that sparked outrage was MacFarlane's "Ted" character trotting out the Jews-control-Hollywood line.
In a bit while presenting the award for Best Sound Mixing and Best Sound Editing, the funnyman's R-rated teddy bear alter ego suggested to costar Mark Wahlberg that if he "wants to work in this town," he's gotta be Jewish.
That didn't go over too well with Jewish watchdog groups, many of which chastised MacFarlane for rehashing an old anti-Semitic stereotype in front of a global audience.
"While we have come to expect inappropriate 'Jews control Hollywood' jokes from Seth MacFarlane, what he did at the Oscars was offensive and not remotely funny," said Abraham Foxman, National Director of the Anti-Defamation League, in a statement. "It only reinforces stereotypes which legitimize anti-Semitism. It is sad and disheartening that the Oscars awards show sough to use anti-Jewish stereotypes for laughs."
It also didn't help matters any when the MacFarlane-voiced Ted declared to Wahlberg, "I was born Theodore Shapiro and I would like to donate to Israel and continue to work in Hollywood forever,"
The ADL subsequently expressed disappointment that MacFarlane and the Academy failed to show "greater sensitivity" by airing the sketch, which it said had greater potential for the "Jews control Hollywood" myth being "accepted as fact."
The Simon Wiesenthal Center concurred.
"The Oscars are transmitted to every corner of the globe, even to such places where such hateful myths are believed as fact," said the organization's Founder and Dean, Rabbi Marvin Hier. "Every comedian is entitled to wide latitude, but no one should get a free pass for helping to promote anti-Semitism."
Reps for MacFarlane and the Academy did not immediately reply to requests for comment.
________
UPDATE Feb. 26, 2013: The Academy tells E! News it's standing by the emcee.
"If the Oscars are about anything, they're about creative freedom.  We think the show's producers Craig Zadan and Neil Meron, and host Seth MacFarlane did a great job and we hope our worldwide audience found the show entertaining," the organization said in a statement.
(Originally published Feb. 25, 2013 @ 2:34 p.m. PT)