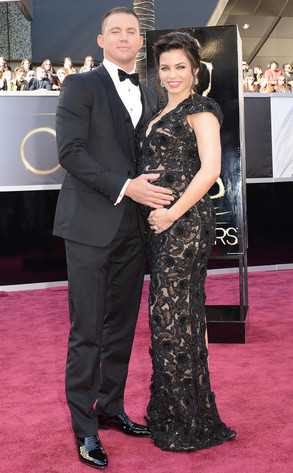 Jason Merritt/Getty Images
Channing Tatum is one proud papa. And wife Jenna Dewan hasn't even had the baby yet! "My greatest production yet," he gushed over his pregnant wife's bump, which was dressed up in a very chic lacy dress for the Oscars red carpet.
Jenna dubbed her Academy Awards-attending bump "a very posh child" and, when asked about her due date, explained, "I have a few more months so I'm walking the carpet, trying to keep it together tonight. But we're good!"
So will Channing, star of Magic Mike, The Vow, G.I. Joe: Retaliation and just about every other movie lately, get some time off when the baby arrives?
"Unfortunately, no," he admitted. "We're actually going to have the baby in London while I'm shooting and then there will be no downtime whatsoever after that."