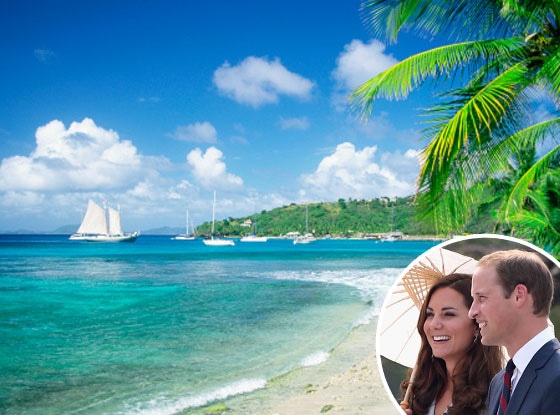 Chris Jackson/Getty Images
Why do William and Kate keep going to the same island if they keep getting snapped by paparazzi there?
—B. Waves, Maui, via Twitter
You speak of Mustique, a Caribbean getaway so lavish and beachy that the royal couple has visited seven times. Paparazzi, in turn, have snapped the couple on said island—why, yes! Seven times!
And still those crazy kids just keep on going. So what's up?
For the record, Mustique is supposed to be one of the most exclusive getaways on Earth—privately owned, not particularly convenient to reach, guarded by roving bands of anti-paparazzi security, dominated by single-family villas that rent for an obscene average of $20,000 weekly.
And yet, the paps just keep on papping out there. Most recently, a long lens was used to capture a bikini-clad Middleton, with her bare baby bump, on a Mustique beach that's shared with other vacationers.
One or two outlets ran the photos. The palace reacted with typical harrumphing, calling the pap attack "a clear breach of the couple's right to privacy."
So why do the expecting twosome keep going to this place?
Maybe--just maybe--it's because they know that the large majority of the media will censor themselves, regardless of what the law says about privacy. And for the record, the law isn't necessarily on the royals' side.
"Each time you realize you're not really in a private place, you have a diminishing expectation of privacy" in the eyes of the law, attorney Dan Grigsby of Jeffer Mangels tells me. "Sure, you start with a reasonable expectation first time you're on a private island, but if you're photographed again and again, pretty soon, it's hard to argue that you have a reasonable expectation of privacy."
And yet, you'll notice that, as soon as the couple voiced its royal displeasure about the Mustique photos, most media outlets dutifully vowed not to air the images.
In other words, there's another dynamic going on here: Does it really matter to Will and Kate if a paparazzo takes invasive photos, if most outlets will never run them?
"With the technology that photographers have now, being able to get a shot from so far away, there's probably nowhere in the world nowadays that the royals can go without getting a photograph taken," high-end travel consultant Lyndsey Green points out.
In other words, as long as this famous couple is outside and walking around in a place with other visitors—say, a beach on Mustique—they're gonna get photographed.
But as long as they have the goodwill of the media on their side, they know that their privacy will be, with very few exceptions, intact.