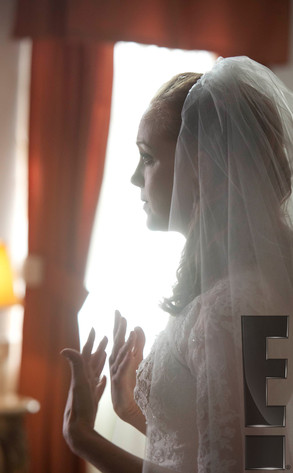 FOX
Here comes the bride, all dressed in white….and crying?!
In this exclusive first look photo from this week's episode "I Do," Emma (Jayma Mays) is looking angelic in her wedding dress, but it's her face that's causing our Wemma-loving hearts to tighten into a knot. She is visibly upset and stressed out, and do we spy tears threatening to spill out of her eyes?
Emma should be over the moon at the thought of walking down the aisle toward Will (Matthew Morrison), but our favorite germaphobe shared a kiss with Finn (Cory Monteith) in last week's episode, so clearly something isn't quite right for our bride. Obviously we don't think she will up and leave Will for Finn, but clearly that kiss caused Emma to feel something other than joy about her upcoming nuptials.