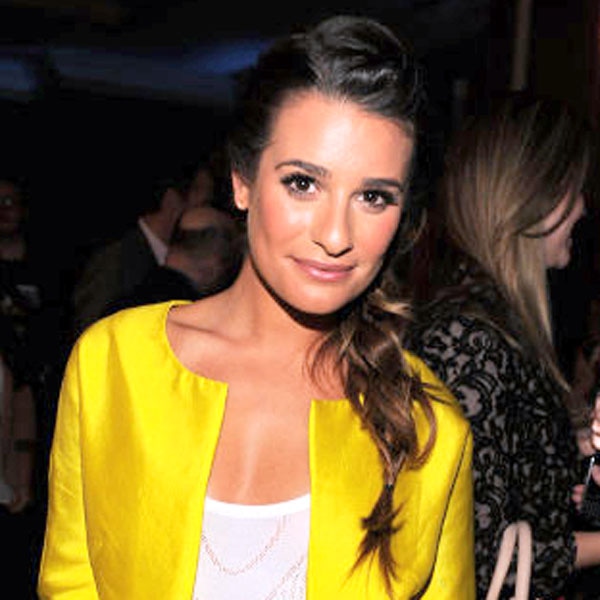 Frank Micelotta/FOX
Breaking news: Lea Michele and Cory Monteith are insanely adorable together.
OK, so the fact that the Glee costars are one of the cutest couples in Hollywood is no secret, but we just can't help restating the fact after catching up with the lovely Lea at Fox's 2013 Winter TCA Party, where she exclusively talked to us about their recent romantic trip to Hawaii, which she describes as "awesome."Awww!
Plus, Lea was also willing to dish scoop on what's ahead for Rachel on Glee, including a possible "topless" turn and exciting duet...
"I had the best time in Hawaii. It's so beautiful there," a radiant Lea tells us of her recent vacation with Cory. "We had an awesome time. Cory took me on some adventures, some crazy activities. I was scaling mountains and driving down incredibly dangerous roads. It was really, really awesome. I had the best time ever."
Of course, we couldn't help asking Lea about Cory's svelte new look, which she reveals was originally for a movie role. "I'm actually the bad influence. I'm the bad one. I'm like, 'Come on, don't you want to order something?!" she jokes.
Along with some "awesome" memories, Lea also brought something else home with her from Hawaii: a glowing tan! "Before I left, I called [executive producer] Brad Falchuk and I was like, 'I just want you to know I plan on coming back a different shade. So either you write it into the show or you work something out in like effects afterwards where you can retouch me to a lighter color.' I can't help it. Trust me, sunscreen is so, so, so important and so I always wear sunscreen, but I still get really tan."
As for what's coming up for Rachel when Glee finally returns from its winter hiatus, Lea teases, "There's some Rachel-Brody stuff coming up, some interesting little shockers there." Another scooplet we were able to get out of her? "We got some people moving to New York, that's also really exciting," she reveals.
Lea also spills that she has a super exciting duet coming up on the show with...herself!
"There's an episode coming up called 'Naked' where Rachel gets asked to do a topless scene in a student film so that's very interesting. She has a conflict between the new Rachel and the old Rachel," she explains. "I did this really cool musical number where I had to shoot it both as the old Rachel and the new Rachel. I did a duet with myself, which is incredibly perfect Rachel Berry narcissist right there!"
To hear more from Lea about her vacation with Cory and whether or not we'll see a wedding this season on Glee, watch our interview with her above!
Glee returns Jan. 24 at 9 p.m. on Fox.