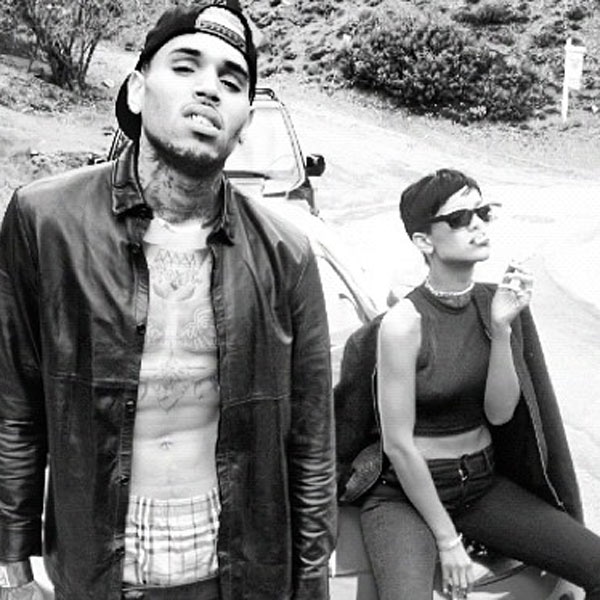 Twitter
If you ask Rihanna, it doesn't sound like she has any regrets.
The pop superstar opened up about renewing her tumultuous romance with Chris Brown three years after he assaulted her, telling Rolling Stone in its latest issue, "I decided it was more important for me to be happy."
"I wasn't going to let anybody's opinion get in the way of that. Even if it's a mistake, it's my mistake," Rihanna said in the interview. "After being tormented for so many years, being angry and dark, I'd rather just live my truth and take the backlash. I can handle it."
Alrighty then.
The 24-year-old Barbadian beauty and 23-year-old "Run It" singer sparked controversy after they were spotted making out at a New York City nightclub last fall and essentially got back together—though not necessarily exclusively. The reconciliation happened even though Brown is still serving five years' probation for the pre-Grammy beatdown for which he pleaded guilty and performed community labor.
But the legal drama that resulted from the notorious incident doesn't seem to faze Rihanna much.
"When you add up the pieces from the outside, it's not the cutest puzzle in the world," Ri-Ri told the magazine. "You see us walking somewhere, driving somewhere, in the studio, in the club, and you think you know. But it's different now. We don't have those types of arguments anymore. We talk about s--t. We value each other. We know exactly what we have now, and we don't want to lose that."
Rihanna, however, was quick to note that if Breezy ever showed a hint of the abusiveness that led to their infamous altercation, she's out of there.
"He doesn't have the luxury of f--king up again," said the "SOS" singer. "That's just not an option. I can't say that nothing else will ever go wrong. But I'm pretty solid in knowing that he's disgusted by that. And I wouldn't have gone this far if I ever thought that was a possibility."
We guess only time will tell. Or perhaps the judge supervising Brown's probation after Brown purportedly got into a fight with fellow crooner Frank Ocean on Sunday at a recording studio in Los Angeles.
The L.A. County Sheriff's Department is investigating the row and, should he be charged, his probation could potentially be revoked.