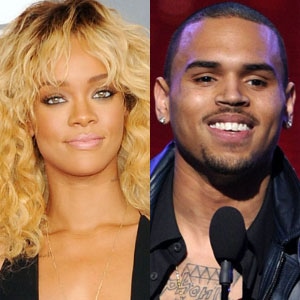 Jason Merritt/Getty Images; John Shearer/WireImage
Is Rihanna giving Chris Brown a second chance—or did she just share a fleeting romantic moment with her ex?
Just one week after the 23-year-old "Run It!" singer appeared to cozy up with Nicole Scherzinger, Brown got hot and heavy with his former girlfriend while partying at NYC hot spot Griffin.
Here's what went down during the one-time couple's late night rendezvous.
Brown, joined by pal Bow Wow, arrived at the club first and settled into his own table, E! News confirms. Rihanna arrived later, and sat at a separate table from her ex.
"She knew he was there," a source tells us.
At one point during the night, Brown climbed over his table to join Rihanna at hers. She then proceeded to take off his shirt before they began dancing and making out, according to an eyewitness at the club.
Following their PDA dance session, Brown left the club just before 4 a.m., with Rihanna hitting the road about five minutes later.
Reps for Brown, 23, and Rihanna, 24, did not immediately comment.
Brown is still on probation for his infamous beatdown of Rihanna in 2009. They have remained close, however, exchanging birthday tweets in recent months and even sharing a friendly peck during last month's MTV Video Music Awards.
While Brown's model girlfriend, Karrueche Tran, was noticeably absent, other celebs that were also at the club last night, not with Brown and Rihanna, included Dave Chappelle, Tyson Beckford and Chris Rock.
Eyewitness Yair Devia claims he saw the duo leaving the Gansevoort Hotel together today at around 5:50 p.m. The alleged couple tricked the awaiting paparazzi by putting cones and caution tape in front of the hotel as they snuck out of the side door.
Brown, dressed in a "hoodie, jeans and sneakers" entered the SUV first followed by Rihanna in "skinny jeans, kitten heels, a black jacket and shades," and drove away together.
Now we want to hear from you. Is this a good idea for Ri-Ri? Are you happy they're back together? Sound off in the comments.
(Originally published Oct. 2 2012, at 2:19 p.m. PT)
—Reporting by Claire Pires