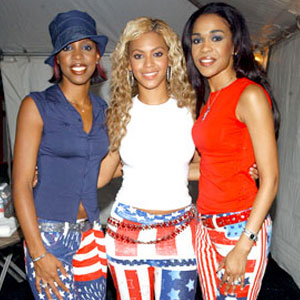 KMazur/WireImage.com
UPDATE: According to the Fela!'s official website, Williams will not be appearing in the performances scheduled for Jan. 31-Feb. 3. 
_________
Suddenly, the Super Bowl isn't looking so bootylicious.
On the heels of Beyoncé's sneak peek Instagrams promoting her much-hyped halftime performance, fellow Destiny's Child member Michelle Williams is shooting down rumors of a possible reunion during the show, saying the unconfirmed reports are "not true."
"I'm going to be in the musical Fela!" she recently told WRUG Media in an interview. "I hate to disappoint the people and tell them that it's not true." 
Williams is headlining a world tour of the famed musical, and according to the show's website, there will be two performances at  Washington's Sidney Harman Hall at 3 p.m. and 8 p.m. on Super Bowl Sunday.
Tabloid reports surfaced last week claiming Michelle and Kelly Rowland would join Beyoncé on stage at the New Orleans' Superdome Feb. 3 to perform a medley of their greatest hits, but Williams insists that's just not the case.
"I'm so sorry. I'm so sorry," Williams said. "But we did record a song with each other before the holidays." 
The singer-songwriter is, of course, referring to Destiny's Child's single "Nuclear," their first new recording together in eight years off their new album Love Songs. 
Although Williams has formally debunked the reunion rumors, Rowland played it far more coy when E! News asked the star about the reports in December. 
"I love the Super Bowl, but I love my sister [Beyoncé] more, so of course I'll be watching," she said at the VH1 Divas event. 
Well, at least the latest mystery will deflect from Bey's lip-syncing controversy.
Are you still excited about Beyonce's performance or are you disappointed Destiny's Child won't be sharing the stage?
Tell us your thoughts in the comments! 
(Originally published Jan. 28, 2013, at 9:13 a.m. PT)