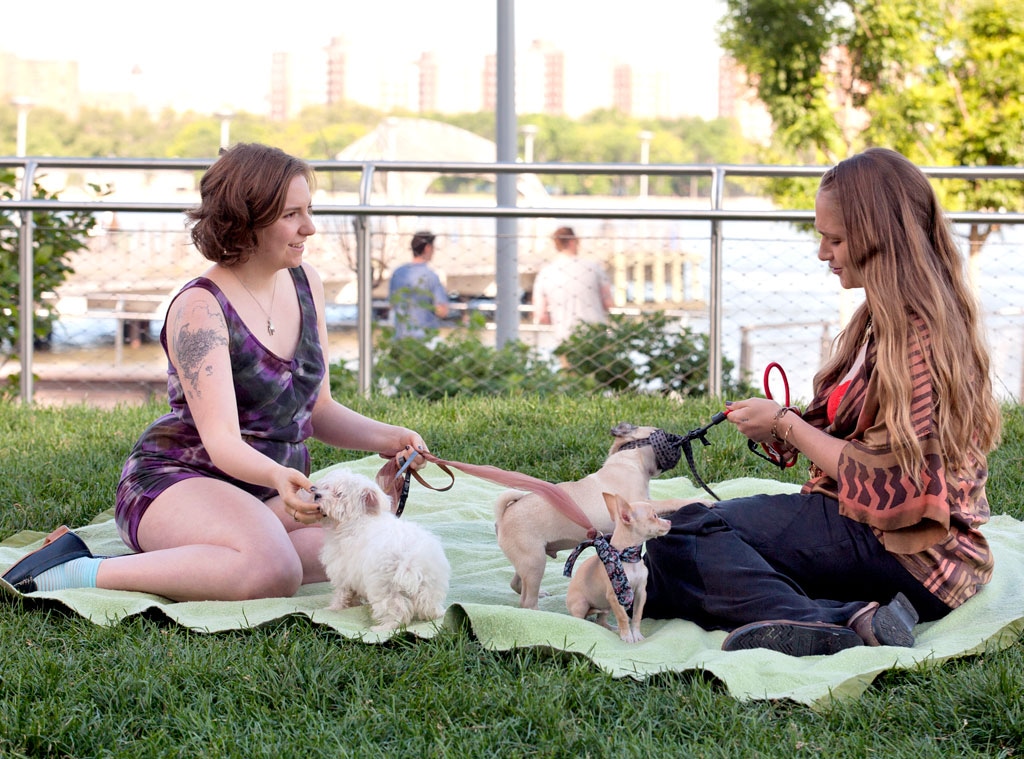 HBO
Three pumps. This is the first source of drama in this episode of Girls.
The three pumps refer to the short-lived sexual encounter that Marnie (Allison Williams) and Elijah (Andrew Rannells) had in the last episode. The other source of drama is, of course, Hannah's (Lena Dunham) ex Adam (Adam Driver).
The show starts off with a relationship-ending fight between Elijah and his older boyfriend, George (Billy Morissette). George can't hand the fact that Elijah banged a girl, mostly because he sees it as an immature denial of sexuality on Elijah's part. Despite Elijah's protesting that it was only three pumps, the two split. We predict it's for good, since IMDb has George listed as appearing in just two episodes. Bye!
An uptight art gallery lady tells Marnie that she probably doesn't have a future in the art world, because her hair, her face and her Ann Taylor suit don't exactly fit in. She storms back to the place she's sharing with Shoshanna (Zosia Mamet), ready to share her existential malaise with whoever will listen. She's so much more fun when she's angsty! Shosh is tangled in bed talking about bathing pigs (because their skin feels like human skin?) with Ray (Alex Karpovsky), who has now become her whispery-giggling lover boy.  
Shoshanna suggests that Marnie get a "pretty person job" and both agree that she's totally pretty, but quickly cut her down by reassuring her that she's pretty, but not model pretty. What Shoshanna had in mind was a hostess job, and she quickly makes it happen, despite Marnie's fear that this job is a bit too working class for her high-minded aspirations.
Meanwhile, Hannah is dealing with an increasingly stalkerish Adam. He sends her a dismal recording of himself playing an acoustic guitar, and she starts debating with Elijah about just how "murdery" he is. After Elijah reassures her that he won't actually hurt her, she grumbles, "You're saying he didn't love me enough to murder me."
Speaking of guys smitten with Hannah, her "black Republican" boyfriend, Sandy (Donald Glover) is quite smitten. As they kiss while brushing their teeth in the bathroom, Elijah breaks up the romance party by attacking Sandy for being Republican and thus hating gay people.
Later, Hannah confesses her doubts about dating a Republican guy to Jessa (Jemima Kirke), who accuses her of always over-thinking things. Jessa, a true under-thinker, seems happy in her half-baked marriage to Thomas-John (Chris O'Dowd). The two got matching tiger tattoos, for some reason or another, and he buys her spontaneous gifts every now and again, like three puppies in a picnic basket. Jessa names them Garbage, F--ker (or Pucker, we couldn't tell) and Hanukkah, and we're sure they will all soon have cornrows and second-hand smoke problems. 
Jessa makes Hannah worry about the fact that Sandy never read her essay, which sends Hannah right over there to find out the truth about his opinions, and to coax it out with kisses, of course! Because that's what their relationship is all about. Sandy confesses that he didn't like it at all, because it felt like, well, nothing much happened. "It feels like waiting in line and all the nonsense going through your head the whole time."
The conversation turns into a fight about Sandy's Republicanism, which causes Hannah to say a few dumb things, like that she doesn't live in a world where racial divisions exist. Even though she drops a Missy Elliott lyric into the conversation, it gets unbearably awkward and he kicks her out of his apartment. She offers to have sex with him anyway, because she "doesn't believe in blue balls," but he does not take her up on it.  
Hannah storms home to her apartment and tells Marnie and Elijah that she broke up with Sandy because she "can't be with someone who's not an ally to gays and women." Caught up in their own conversation about their sexual encounter, they both gasp, "Thank you!" very sincerely, and it's probably the funniest moment of the episode.
If you were wondering if a fueled-by-feelings Hannah cuts her hair this season, the answer is yes. It happens in this episode, as she follows YouTube instructions in bed at night. As she chops, she starts receiving texts from Adam, who says he saw her turn her lights off. Uh-oh. It's time to see just how murdery he is. He bursts into her apartment (he has a spare key), and asks for milk. She gets it for him while calling 911, but hangs up before they answer, not realizing that they'll come anyway. They two engage in yet another unnecessarily dramatic fight, and she kicks him out, right into the arms of the police. They bark at one another about getting restraining orders against one other as he is taken away, and then he's gone. Feeling bad, Hannah shouts that she might catch up with him later, and just like that, the show is over. Wait, what? Another episode ends with us asking just that.
ONE-LINERS
"I always said he was murdery in a sexy way, but what if he's murdery in a murdery way?" –Hannah
"I've always marched to the beat of my own drummer, ever since I cut my camp shirt into a halter top." –Hannah
"People are different. You were with George for a very long time and he's still on Hotmail." –Hannah
"I just don't want to be around people who don't hate everything in their lives." –Marnie
"I'm painting someone I love so much. I'm used to painting things I hate, like my mom or scenery." –Jessa
"You look like a slutty von Trapp child." –Elijah