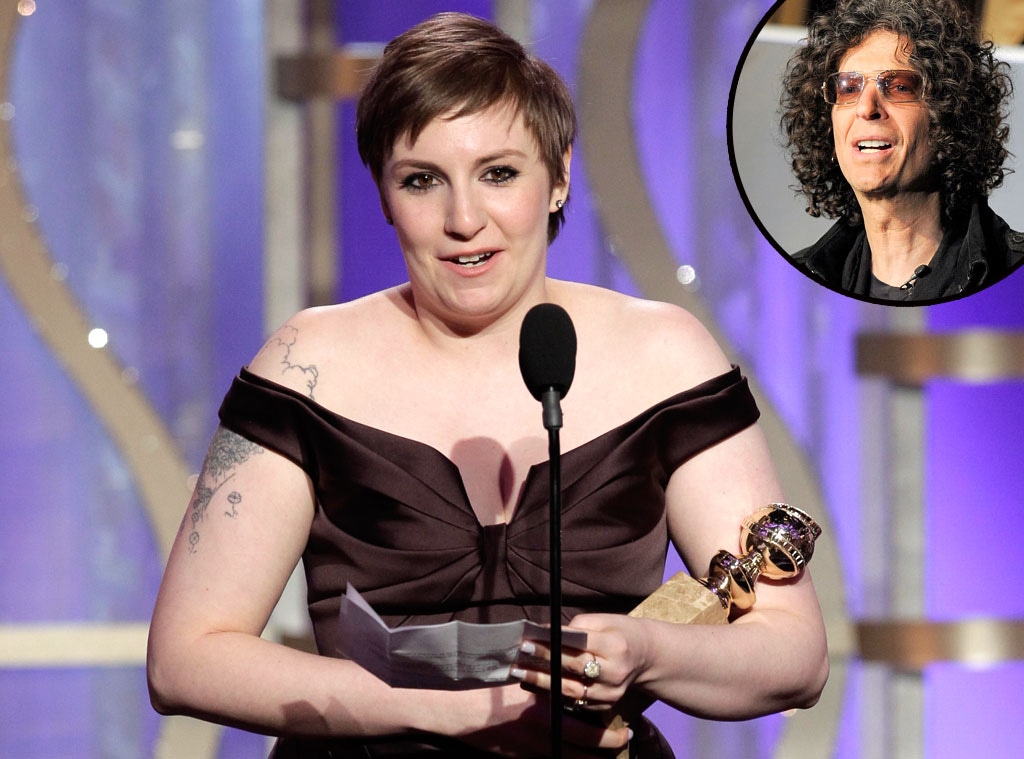 Paul Drinkwater/NBC, AP Photo/Evan Agostini
Victory is Lena Dunham's, in more ways than one.
Following Girls' triumphant night at the Golden Globes, Stern said on his Sirius-XM show this morning that he likes the show and felt bad about past cracks he made about its star and creator—who has charmed some and turned others off with her pointedly awkward character and proclivity for nudity on the HBO series.
Last Monday, Stern called Dunham "a little fat girl who kind of looks like Jonah Hill" and otherwise detailed his Girls grievances.
"I learned that this little fat chick writes the show and directs the show, and that makes sense to me because she's such a camera hog that the other characters barely are on," Stern complained.
Well, today he was singing a different tune. In fact, it sounded almost like "Anything Could Happen."
"I felt bad," he said on the air, calling the next-day take on his comments a "hatchet job," "because I really do love the show Girls and enjoy it, and I admire the girl who writes it...So I said to [producer Gary Dell'Abate], would you please contact Lena Dunham and please tell her that I would like to explain myself to her on the air and apologize to her because I do love the show and it makes me feel bad that she is getting the impression that I somehow think she's just a talentless little fat chick."
"It took me a while to get there," Stern also said, "and all of the sudden I went, 'This show's really really funny. I like it.' I kind of just started liking the show. And I've done a whole 360 on the show and I really admire the girl who writes it, and I actually like when she comes on camera...I'm a superfan now. I really love it. I almost went to the premiere the other night."
Well, if he had gone to the premiere, he could have found out right then and there that the very good-natured Dunham (whom we think would make for an excellent Howard Stern Show interview) was actually kinda psyched by his comments.
"I did find out that Howard Stern really hates [the show]," Dunham said on the Late Show With David Letterman last week. "I'm a Howard Stern fan and I really think that he has earned the right to free speech and he should just go for it. But he did say something that I thought was so funny that I want to get on my gravestone, where he said, 'Congrats to her, it's so hard for little fat chicks to get anything going these days.' And it put me in the best mood! 
"I just wanted to be like, my gravestone says, 'She was a little fat chick, but she got it goin'."
Girls producer Judd Apatow, who's been a guest on Stern's show multiple times, also tried to put the nastiness in perspective, telling the Los Angeles Times on the red carpet, "I think [his crack] was taken out of context. I don't think it wasn't his intention the way it came out."