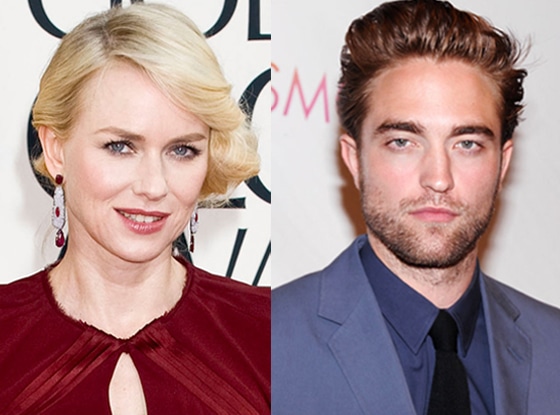 Sara De Boer/StarTraks, Jamie McCarthy/WireImage
Robert Pattinson and Naomi Watts will not be coming to theater near you anytime soon.
At least not together, that is.
The two are signed to costar along with Jude Law in a Queen of the Desert, a period piece about British writer, traveler, archeologist and spy Gertrude Bell.
"It's still a way's off," Watts told me last night at the Luminara and Mulberry Project dinner for her Sundance Film Festival movie, Two Mothers. "I don't know yet. Hopefully, it will happen. I just can't travel again right now because I did a lot of traveling last year. It's been a big year and it's time for me to be home with the kids."
And speaking of kids, in Two Mothers, Watts and Robin Wright play best friends who fall in love with each other's teenage sons.
"These are two great female characters full of complexities who are dealing with that midlife point," Watts said. "It's definitely an unconventional love story."
"But it's not just about sex and their ages," she continued. "It's about this kind of unit that has worked so well together and it's the end of their school life. They're about to head off to university. The nest is emptying."
Watts' son is played by 29-year-old Twilight star Xavier Samuel ("He looks much younger on screen," Watts said) while Animal Kingdom actor James Frecheville, 21, plays her young lover.
Watts, 44, says she can relate to her character. "I understand loneliness and the fear of that and she's someone who has suffered and is afraid to be alone," she said. "She has this wonderful friendship and I can relate to that side—two women who are almost co-dependent with each other and they could go through ups and downs of a high level and still come to the other side of it."
In much less, well, deep news, Watts said she doesn't have her Oscar dress picked out yet (she's nominated for her work in The Impossible).
She and her sister-in-law stylist are talking "to a few designers" right now.
"It's kind of endless hours that you have to put into it, in terms of fittings and second fittings and more," Watts said. "That's why I love this festival. You just slip in and out and it's no nonsense. I love that we can schlub around and not worry about frocks."