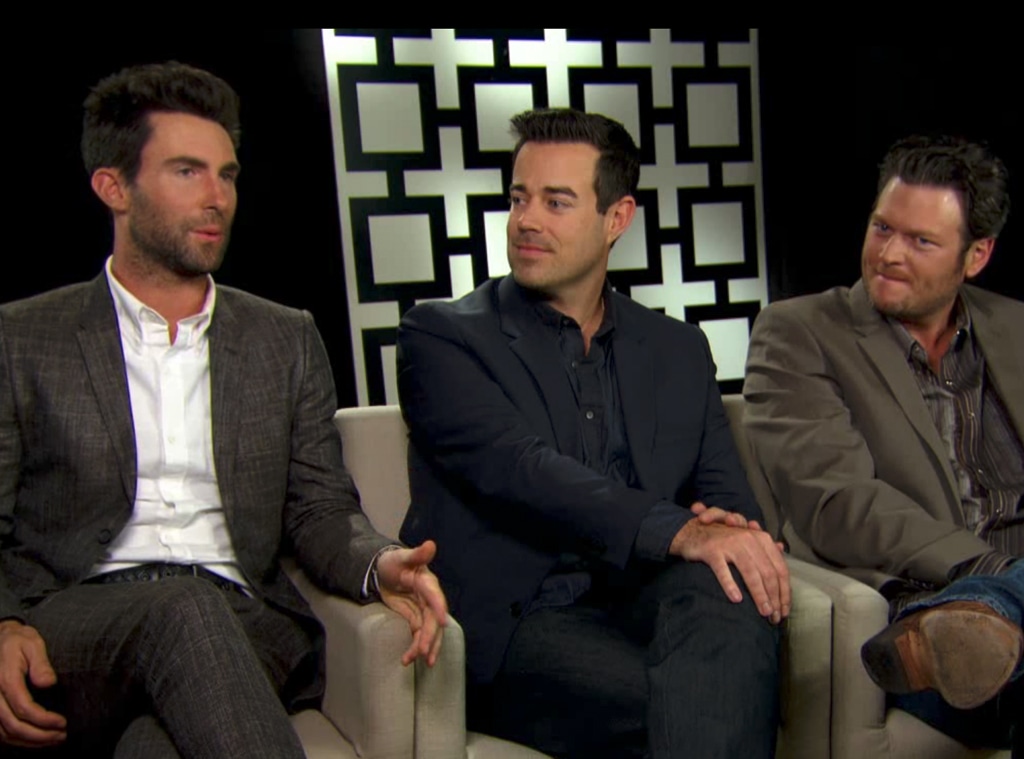 E!
Breaking news: Hollywood's hottest relationship is in trouble!
It's true, y'all. The Voice's Blake Shelton and Adam Levine's bromance is on the rocks and a third party is involved: new coach Usher, who is joining the NBC reality hit for its fourth season, along with Shakira.
We caught up with Adam, Blake and host Carson Daly at the 2013 TCA Winter press tour to chat about the new coaches and how the Maroon 5 lead singer and the country crooner plan to keep their bromance alive with the "hot" new guy around...
Watch:
Adam Levine, Blake Shelton and Carson Daly on "The Voice"
"As we can see with you, he's clearly affected you. You are like a 15-year-old girl in front of him," Adam said (with a twinge of jealousy?) after Blake gushed about Usher's effect on people.
Blake's retort? "Why are you saying that, because I screamed when I saw him? He is so hot....Usher's my free pass with Adam!"
Alas, there's no need for "Bladam" fans to start worrying as Adam is confident in their bromance: "I know nothing could break our bond of love."
So how does the duo keep the spark alive? "We've actually been going to a sex therapist just to try and get all of that spiced up again because sometimes you get buried or figuratively married," Adam joked. "What happened to the tenderness and all that. And sometimes it's fun to go to a sex shop. We went to a sex shop recently, got some gizmos and gadgets."
"There is a new normal in singing competition shows and it is here on The Voice," Carson joked.
During the interview, Carson says he and the coaches have become "a family," adding that Blake and Adam have become "uncles" to his children. Awww, alert!
"Carson's son Jackson is the true star of The Voice," Blake gushed. "Anywhere he is behind stage there's a  group of people just trying to get him to notice them."
Carson joked, "He's like a little Usher!"
To hear more from Adam, Blake and Carson, including what Shakira is like as a coach, watch our interview with them above! The Voice returns for its fourth season on March 25.
(E! and NBC are both part of the NBCUniversal family)