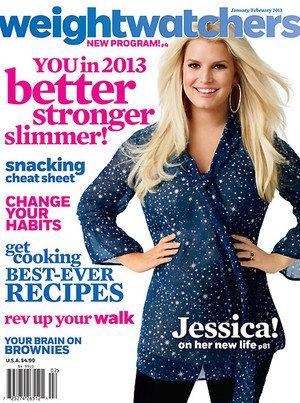 Weight Watchers Magazine
Jessica Simpson sure has a glow about her!
The pregnant fashion empress is Weight Watchers magazine's January/February issue cover girl. Wearing a starry blue and silver top and black skinny jeans, the 32-year-old blond beauty sparkles and even shares one of her slimdown secrets.
"I'm crazy about smoothies, so I bring fruit chopped up and ready to go," she reveals. "That way, I can sip the same smoothie all morning long between takes. If it thins out, I put it back in the blender with crushed ice for a few minutes."