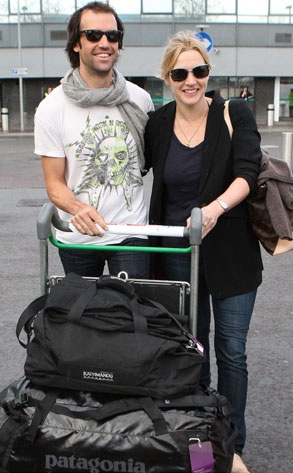 Fame Pictures
Kate Winslet up and married Ned Rocknroll before we had much of a chance to get to know him better.
In fact, they swapped vows before anyone even knew that Rocknroll was Winslet's fiancé!
Figuring you may have a few questions about the gent who swept the estimable Oscar winner off her feet, we've got five things for you to know about Winslet's new husband:
1. Nepotism Is Alive and Well: Rocknroll—he was born Abel Smith but had it legally changed—is a nephew of billionaire Virgin Group founder Richard Branson, and the 34-year-old Brit reportedly works for his uncle's Virgin Galactic, the space-travel division of the Branson empire. Doing what, we can't be sure, but he has proved adept over the past year at flying all over the place to be by Winslet's side.
2. He's a smooth operator: It's unclear whether they had ever met before, but all the non-VIPs know is that Winslet arrived at Branson's vacation home on Necker Island in August 2011 with her kids and Burberry model Louis Dowler and left with Rocknroll. Maybe the recently divorced fellow played a hero when the whole party had to evacuate after a fire broke out at the house, after which Branson thanked Winslet for being among the guests who helped carry his 90-year-old mum to safety. Dowler told London's Daily Mail a few months later that he didn't think Winslet properly handled the, er, transition. "I don't think Kate behaved well and it is still very raw for me," he said of their breakup.
3. This Isn't His First Rodeo: Rocknroll was married for two years to British socialite Eliza Pearson, daughter of Peregrine John Dickinson Pearson, or the Viscount of Cowdray (a county in West Sussex). 
4. He Proved Trustworthy: Winslet didn't wait very long to introduce Rocknroll to her two kids from her two previous marriages. The cozy quartet were spotted touching down at New Jersey's Newark International Airport around Halloween 2011, just a few months after the Necker Island episode. "There's no way that I'm going to allow my children to be f--ked up because my marriages haven't worked out," Winslet told the November 2011 issue of Harper's Bazaar UK not long after she was first linked to Rocknroll. "I so wish that that wasn't the case—that that hadn't happened in my life. But it has, so I will make the best of it—and I am."
5. He Makes Great Arm Candy—and a Great Shadow: They made their red carpet debut at the 2012 Golden Globes—and Rocknroll was by her side (or standing at a respectable distance behind her so that she could pose for pics) ever after.
(Originally published Dec. 26, 2012, at 8:30 p.m. PT)