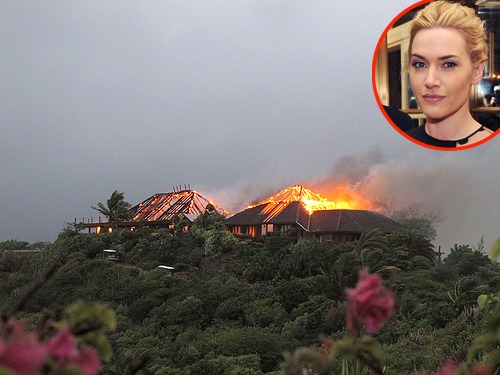 Courtesy of Richard Branson; Stephen Lovekin/Getty Images
Apparently, pirates aren't the scariest things to worry about in the Caribbean.
Kate Winslet and her family were forced to flee their luxury confines this morning after a devastating, middle-of-the-night fire broke out at the private home of their holiday host, Richard Branson.
Kate, along with her children Mia, 10, and Joe, 7,and her on-again beau Louis Dowler, were among 20 people staying at the home, all of whom were forced out last night as the flames ripped through the abode.
There is some good news, though…
No one was hurt in the fire. In addition to Winslet's party, Branson's 90-year-old mother, Eve, and his 29-year-old daughter Holly, a close friend of the royals, were also staying at the so-dubbed Great House on the private Necker Island and forced to flee.
Branson himself was staying at a different property on the island, roughly 100 yards away.
A spokesperson for Branson's company, Virgin Limited Edition, confirmed that the fire broke out early this morning and caused "substantial damage" to the home.
"Whilst the cause at this stage is unknown, it is thought most likely due to a lightning strike. Whilst substantial damage was caused to the building, no guests or members of the Necker Island staff were hurt."
"Sir Richard Branson, members of his family and guests were on the island at the time," the Virgin statement continues. "They are all safe and currently being accommodated elsewhere on the island."
On his blog this morning, Branson wrote that a tropical storm with winds up to 90 mph had hit the island, with a lightning storm descending on the property around 4 a.m. The fire was said to be not entirely out as of this morning.
"Many thanks to Kate Winslet for helping to carry my 90 year mum out of the main house to safety wondering when a director was going to yell cut!" he wrote.
There's no comment yet from Kate's camp, though this can't be what she had in mind when she took her kids on vacation. It's unclear how long the group intended to stay at Branson's pad, though they hadn't been there long. Cameras caught the group strolling through London's Gatwick Airport just Saturday on their way to the island.