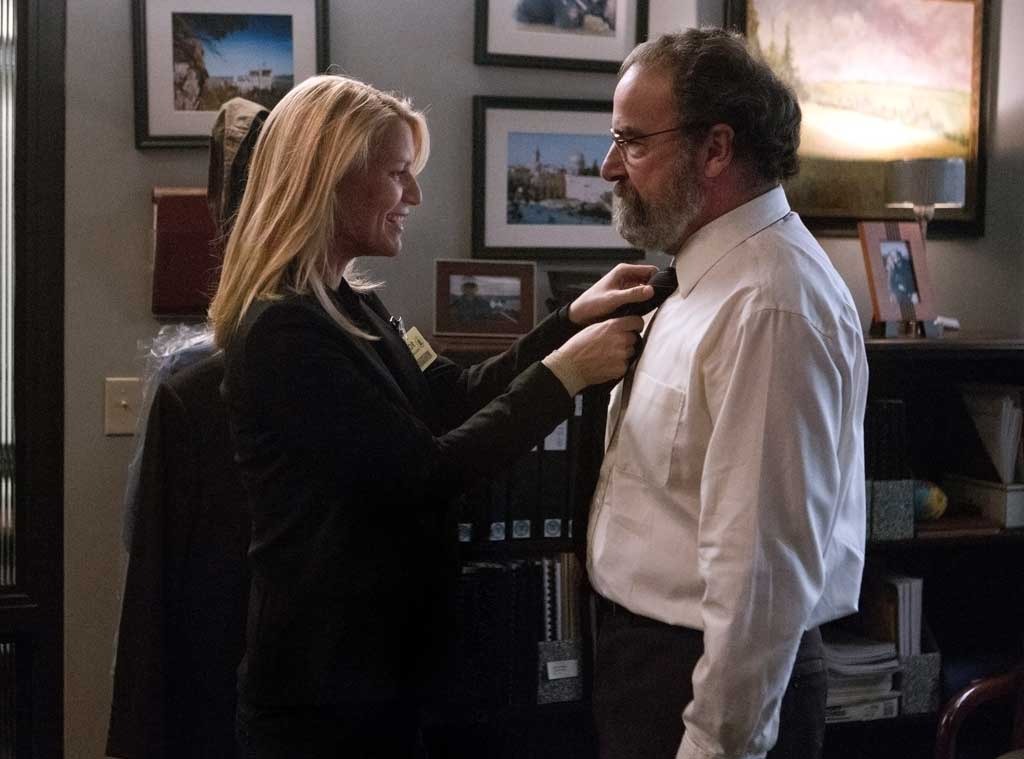 Kent Smith/SHOWTIME
Brody lived. But that doesn't necessarily mean Damian Lewis will be a major part of Homeland's season three.
"Damian's involvement and [Brody's] family's involvement is very much up in the air in light of what happened in the finale," executive producer Alex Gansa told reporters Monday morning.
It was just one of the surprising revelations to come out of a conference call with Gansa and fellow exec producer Howard Gordon the morning after the Emmy-winning Showtime drama wrapped its second season, which included an explosive terrorist attack on the CIA and a fugitive Brody on the run, thanks to Carrie's (Claire Danes) help.
"If you look at [the first] two seasons, we've told a significant part of the Carrie-Brody story," said Gansa, while stressing that they're still in the very early stages of mapping out next year's developments. "If there's a chapter three, it's gonna have to be a reinvention of some kind."
If Brody's future on the show is uncertain, why keep him alive? "It would've [alleviated] the possibility of having Brody come back at a later time, which I think is a nice idea hanging over the next season," Gansa said. "Where is Brody? What's he doing? [He could come] back later in a new incarnation or in a new way."
Producers also revealed they almost killed Brody off three-quarters of the way through the second season, though they ultimately reconsidered because of the chemistry between their Emmy-winning lead actors. "The truth is, the show really elevates when they're together onscreen," Gansa said of Lewis and Danes.
"We love the Carrie-Brody relationship," Gordon added. "It's become one of the defining pillars of the show. The temptation and fear attached to whenever the relationship [is] no longer the center of the show is certainly something that's on our minds. But as afraid as we are, you can't let all the awards and acclaim and Damian's brilliance dictate the story in terms of where it needs to go."
After a universally-praised freshman season, Homeland endured its share of criticism in season two, with some asserting that major plot twists were unfolding too quickly and that many developments were entirely implausible. Gordon admitted the criticism was, at times, hard to take. "There was a lot of pressure on us, and we all felt it this season, to live up to the promise of the first year of the show," he said. "We really wanted to make the show better in season two, and we kept telling ourselves in the story room that we're gonna go for it. We're not gonna be safe. We're going to surprise people and paint ourselves into narrative corners and try to tell our way out of it.
"Look, these highly serialized dramas are a high-wire act," he continued. "And occasionally, you're gonna fall off. If we did fall off this year now and then, I like to think that we had a safety net under us and that was our audience who believed that we could get back up and cross to the other side. That was our hope for the finale, that people understand now why this year was doing what it was doing and that it really did all make sense if you look back on it. Hopefully we answered a lot of the questions people had in the finale and now we can start again in season three."
Among the other tidbits the producers offered up about next season:
It's unlikely Carrie will be working to stop another terrorist attack on American soil. "We might try to find another propulsive thriller trope," said Gansa, who added that it's possible that next year's story may be set largely abroad.
Carrie will likely have doubts about Brody's professed innocence in the CIA bombing. Her bipolar disorder may also once again play a pivotal role. "This season, she did have lapses in judgment, the most notable one being that she did not see Nazir's plot," Gordon said." This year, Carrie has been under professional care and taking measured doses of lithium so there is the idea that possibly her genius was dulled a little bit by maintaining this emotional equilibrium, and I think that's one thing she's gonna question very strongly as we begin the next season."
The bombing of the CIA will be dealt with. "Carrie has promised Brody that she's gonna clear his name," Gansa said. "And there's the aftermath of what we consider the next 9/11. It's how the country responds to that and how the intelligence agency is gonna pick itself up off the ground and try to start functioning again." 
Quinn (Rupert Friend), who opted not to assassinate Brody in the finale, "absolutely" will be part of the show going forward.
Once and for all, Saul (Mandy Patinkin) is not the CIA mole! "The conception of Saul was always the guy who occupied the moral central of our story," Gansa said. "He and Carrie are gonna push the story forward into season three. Carrie made a choice—she chose Saul, not Brody."
David Harewood, who played Estes, also spoke to reporters briefly about how he discovered his character would be killed off in the CIA blast. "I learned a couple days after the Emmy win in September," he said. "We have a saying on Homeland, and that is 'the story is king.' I had no idea where the story was going, and it was kind of thrilling really. When I got the call, of course I was disappointed and a little down, but I think about 20 minutes after getting the call, I wrote [producers] an email saying how grateful I was for the opportunity, and I stand by that. I had a fantastic time playing this character, particularly towards the end, [when he got] a little more edgy and darker. That was great fun."