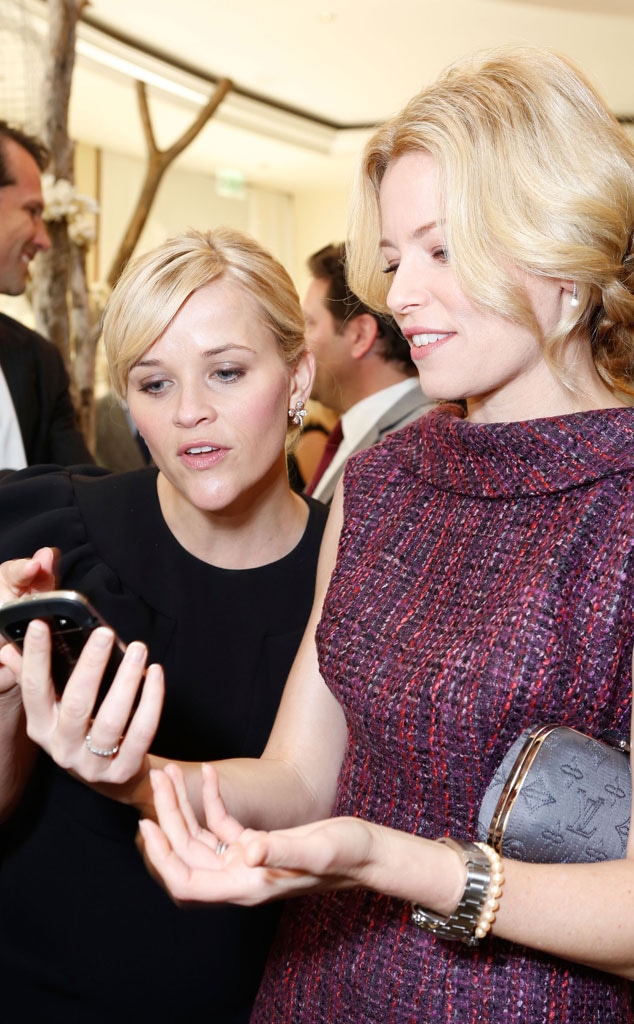 Alexandra Wyman/Getty Images For March Of Dimes
Reese Witherspoon's household just got a heck of a lot cuter this holiday season.
The new mom (who welcomed a son, Tennessee, with husband Jim Toth in September) was honored this afternoon at the 7th Annual March of Dimes Celebration of Babies, a Hollywood Luncheon, at the Beverly Hills Hotel and she happily shared some plans for baby's first Christmas.
"I don't know! We're going to do fun things," she explained to us when asked if there were any special plans this year. "We already bought him a cute little Santa's helper outfit and we're excited about that. That's going to be lots of fun!"
Too cute! During the ceremony, Witherspoon was presented with the Grace Kelly Award, which recognizes role-model celebrity parents who share the March of Dimes commitment to healthy pregnancies and families. And Reese got an intro courtesy of pal Elizabeth Banks, complete with some playful ribbing.
"I am here to talk about Reese Witherspoon. When I first heard Grace Kelly and Reese Witherspoon in the same sentence, I thought, 'Awesome. Another female biopic nobody bothered to offer me,'" Banks (who also just recently welcomed a new son) joked. "Reese is carrying on the tradition that Grace Kelly had of keepin' it classy. She is a tabloids worst nightmare: She does not go clubbing. She does not release sex tapes. And apparently she hid Robert Pattinson for a week."
"Both are worthy, of course of our admiration and respect, but something tells me that Grace Kelly never worried about side boob," Elizabeth continued. "Or Mr. Skin. And when she got married I'm pretty sure there wasn't a Just Jared poll asking Love It or Hate It! Grace Kelly worked with Clark Gable and Jimmy Stewart. Reese Witherspoon survived Vince Vaughn."
Reese then took the stage, cheerfully quipping, "Thank you so much, Elizabeth! That was like standup comedy!" She then began telling a story about a friend who called her as the friend was about to give birth. "She wanted to know how she was going to feel in that moment and what it would be like when you meet your baby for the very first time," Reese recalled. "And I was talking to Jim, my husband, and I said, 'Can you imagine describing that moment of pure joy that happens when your child is in your arms for the very first time.' What are the words?!
"We are parents that know the joy of having a beautiful, brilliant, joyful, perfect baby," she continued. "That somehow heaven has opened up and delivered us an angel, that looks adorable in every angle of an iPhone photo. And, in my case, looks gorgeous printed on a bag or a pillow or an iPhone cover."
And we're sure that little Tennessee is going to look even more adorable on those pillows in his Santa suit!
Bonus: Check out this adorable congratulatory note in the event's program from Jim and Reese's kids!