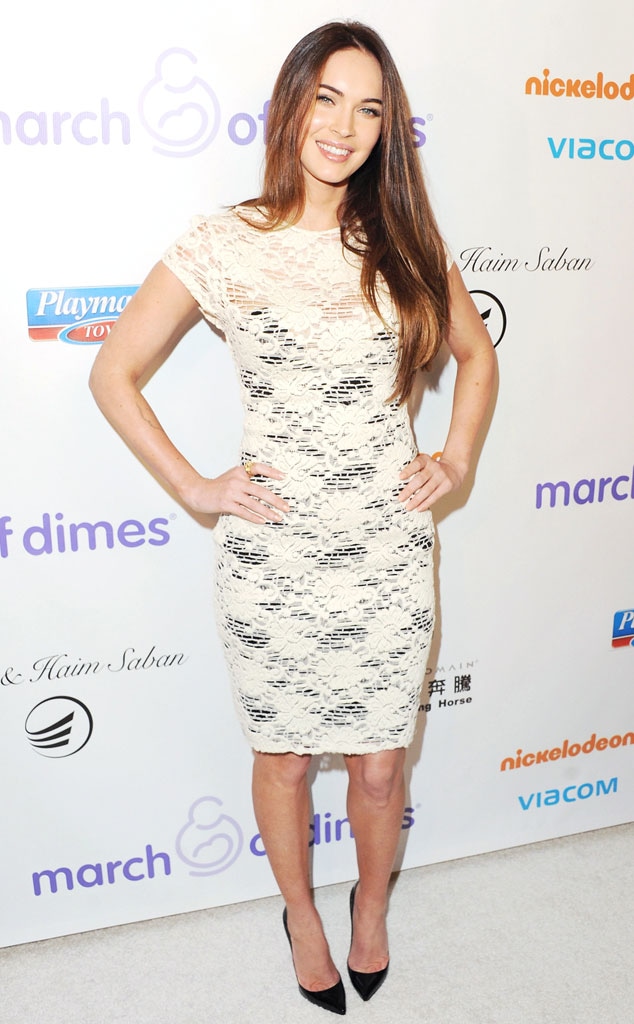 Jon Kopaloff/FilmMagic
Megan Fox is back, baby.
The new mom hit her first red carpet Friday since giving birth to son Noah, attending the March of Dimes Celebration of Babies luncheon with hubby Brian Austin Green, and let's just say Fox still knows how to make an entrance.
Even though she was a tad tardy (let's call it "fashionably late") and had to race into the event, where she and Green were admitted into the Stork Club for celebrity parents, there was no missing her already-slammin' post-baby bod, clad in a form-hugging lace dress.
While we wouldn't exactly call see-through ivory lace over tight black lining demure, Fox recently told reporters that she's not interested in stripping down anymore for the camera now that she's a mother.
"It changes your perspective about being overly sexual in a film when you have a baby," the erstwhile Transformers vixen told the Hollywood Foreign Press in her first interview since becoming a mom, which took place during the junket for Judd Apatow's latest comedy, This Is 40.
"I'm going to be more cautious about choosing films because I'm already thinking about when he's in school, and his friends are going to be showing him my photo shoots with me in a bikini and he's going to be horrified," Fox said. "So, that will deter me from making some of the choices I made."
On seeming to shed all that baby weight so quickly, the 26-year-old actress noted that she only gained 23 pounds and that she's still 10 pounds heavier than she was prior to getting pregnant. But, Fox added, she's become too caught up in parenting to focus on getting back in shape completely.
Parenting itself has presented its own challenges—so much so that she and Green have hired a night nurse to help out two nights a week.
"Having an infant is difficult," added Fox. "It's a lot of work, and I didn't hire any help because I overestimated my own abilities. I had no idea how difficult babies could be, so Brian and I were exhausted."
But a glowing Fox stressed she wouldn't have it any other way.
"You never sleep and you're awake all night and your entire life is devoted to this little thing that needs you constantly. And I love it," she revealed. "I don't receive the same satisfaction from my career as I do from being a mother, so I'm really happy."
This Is 40, a spinoff of Knocked Up, hits theaters on Dec. 21.
—Reporting by John Boone