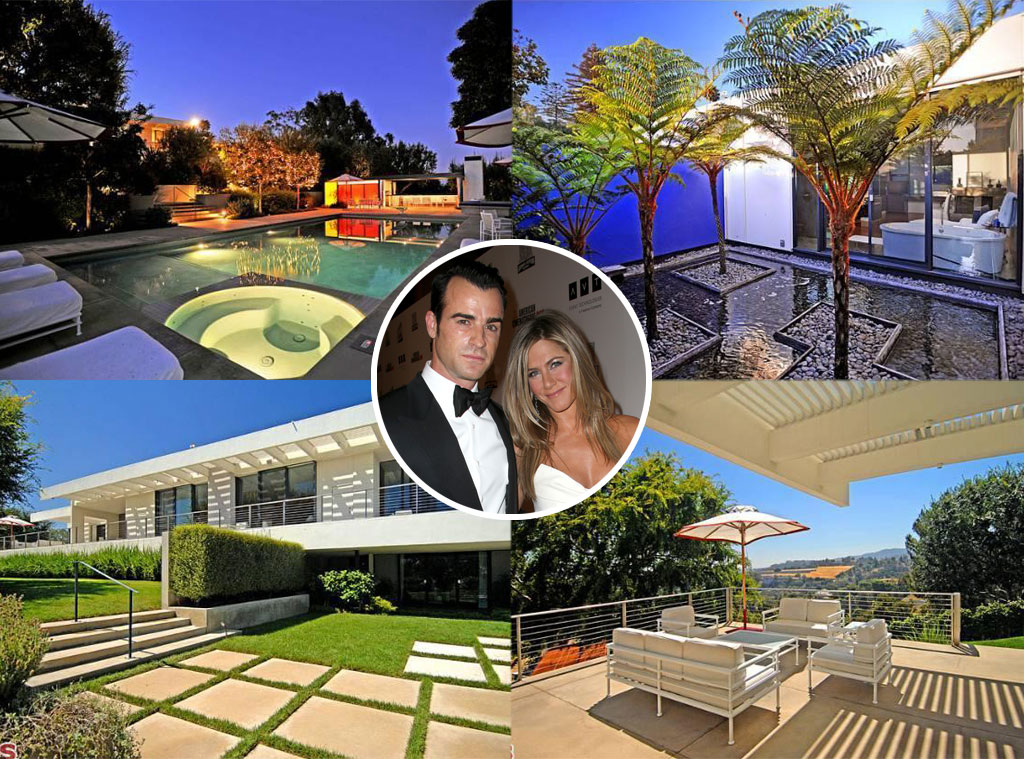 Courtesy: MLS; Frederick M. Brown/Getty Images
Jennifer Aniston isn't married to an architecture buff anymore, but she's always had her own eye for design. 
The Wanderlust star and fiancé Justin Theroux are currently renovating and expanding an 8,500-square-foot home in Bel-Air and E! News has exclusively learned what the handsome couple have planned—and why it's taking so long!
Simply, you can't fight City Hall.
Contractors have asked the city of Los Angeles' permission—via two permit applications, so far—to expand the master bedroom, including the addition of a deck with a trellis; add a cantilever roof eave; remove a different trellis and install roof covers outside the living room, dining room and library, according to public records.
Aniston is also installing an elaborate water feature with a recessed black lava veneer around newly constructed concrete stairs that flows into a pond that's less than 18 inches deep.
Overall, the planned remodel will expand the home to roughly 12,695 square feet. (No wonder they're in need of furniture.)
The gated property was purchased in January by Aniston's personal finance manager, Bruce Lagnese, on behalf of the Wonder Trust.
The original listing described it as Jones' "finest work of art," a meticulously restored four-bedroom, seven-bath home on three-plus acres with unobstructed city and ocean views via numerous walls of glass in an open floor plan.
The property also boasts a massive motor court, a secluded pool, party-ready patios, a guest house and a vineyard.
Cheers!