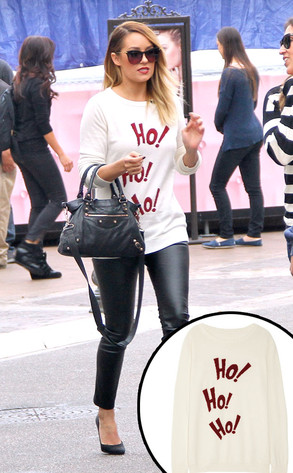 Zodiac/Splash News; Lot78
Holiday sweaters have a reputation for being fiercely unfashionable cold weather garments, but Lauren Conrad has us rethinking the winter wardrobe item usually reserved for ugly sweater parties.
The fashion designer and author recently spread a little holiday cheer on the streets of Los Angeles in a fa la la fabulous Lot78 sweater with the words "Ho! Ho! Ho!" playfully emblazoned across the front.
LC's stylish salute to Santa tops our wish list, not only because of its kitschy cute vibe, but because it's casual enough to wear throughout the holiday season. Don't get us wrong, we love our sparkly and bedazzled holiday dresses, but sometimes they're not the most practical for running around town and competing with throngs of crazed holiday shoppers.