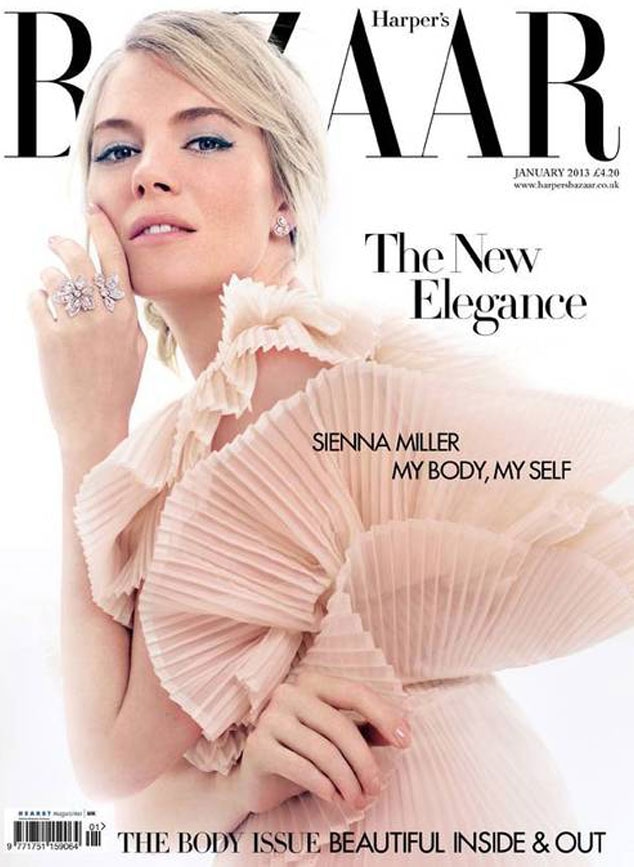 Harper's Bazaar
Is it just us, or has new mom Sienna Miller never looked better?
The 30-year-old actress covers the January issue of U.K.'s Harper's Bazaar, and she stuns in shots for the mag's body-themed edition in which she talks about the serenity she's found since welcoming daughter Marlowe with fiancé Tom Sturridge in July. 
Looking lovely in pastel pink with a glow that only motherhood can bring, the fashionista reveals she has a newfound respect for her body after giving birth: 
"My body's a completely different thing to me, it's not mine—all the attachment to its flaws or any aesthetic attachment is gone," the happy mama admits. "You understand what breasts are for; and I have such enormous respect for my body because of what it can do."
Unlike some celebrity couples who have been known hire a nanny before their baby is even born, Sienna shares that she and Tom haven't had any help raising little Marlowe.
"It's been just the three of us, which was amazing, and exhausting," the first-time mom admits. "We are going to get a nanny, but it felt important to first learn for myself who I was as a parent."
But despite the sleepless nights and tiresome moments, Miller clearly loves motherhood more than anything::
"It's still the most surreal thing, that you can create, that I grew this life inside my stomach, her eyeballs, everything—every little fibre," she gushes. "And I'd expected that she'd be this extension of me and I'd instantly understand who she was because she'd come from me, and then you realize that they are their own people entirely. Very connected to you, of course. But they're their own person."
And she adores the entire experience so much that she even admits she would be more than happy to relive the day she gave birth: 
"It's the best, the greatest thing in the world," she says of motherhood and childbirth. "I would do that day a million times again. I would do that day, every day. I loved it."
Aw, we love hearing Mama Miller gush over her little one!
Congrats to the happy family!