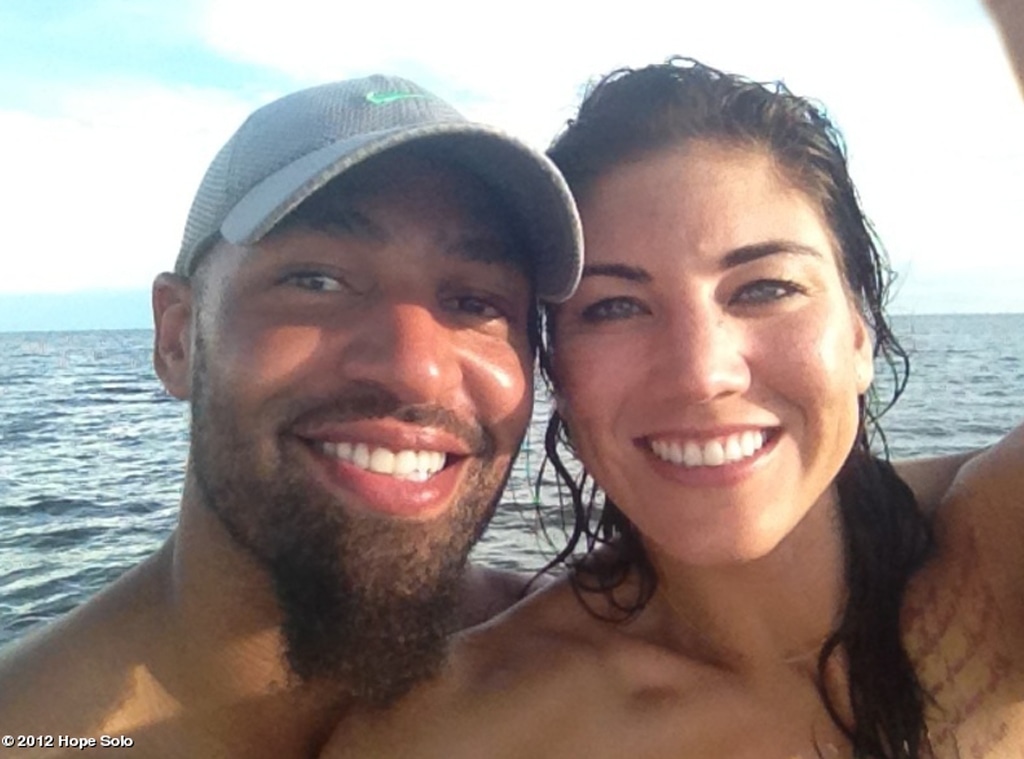 2012 Hope Solo/WhoSay
Hope Solo is standing by her man.
The newlywed soccer star maintains that football-player hubby Jerramy Stevens, who was arrested on suspicion of domestic violence the day before they tied the knot, is a great guy.
"My beautiful husband & i happy as can be!" she posted on her Whosay page alongside of a photo of the two looking pretty darn happy as can be.
"Let me set the record straight!!! Jerramy has NEVER treated me poorly! The truth always prevails!"
Alas, Stevens was locked up yesterday in Tampa, Fla., with police alleging that his assault bust two weeks ago constituted a violation of his probation on a previous marijuana-possession charge.
The former tight end for the Seattle Seahawks and Tampa Bay Buccaneers was released today but is still facing a future probation hearing, according to USA Today.
"It was dismissed in Washington and it was dismissed here," his attorney, Mark O'Brien, told the paper, referring to the assault arrest in Kirkland, Wa., after which no probable cause was found to press charges.
"Look, he's a former NFL player and he's married to the goaltender of the U.S. national soccer team,'' O'Brien said. "There's a certain amount of notoriety that goes along with that. Plus, it's no secret that he has been dogged by allegations of criminal misconduct in his past.''
Per authorities, Stevens was involved in an eight-person melee that left Solo with a cut on her elbow, hence the initial domestic-violence assignation.