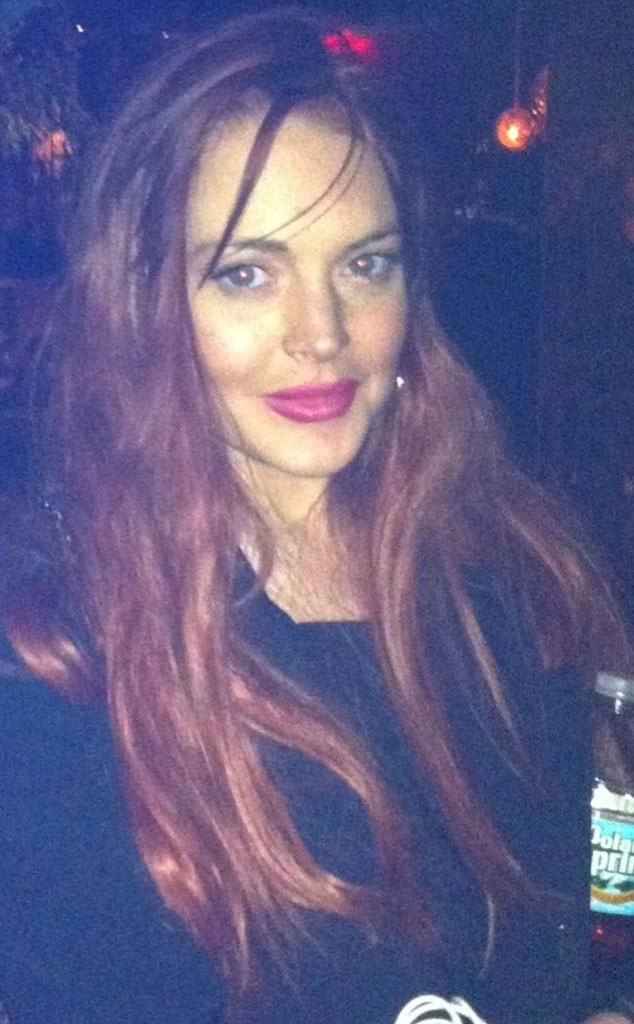 Marquez / Splash News
Lindsay Lohan has once again found herself in trouble with the law.
The Liz & Dick star was arrested early Thursday morning after allegedly punching a woman named Tiffany Eve Mitchell at New York City's Avenue nightclub. Lindsay was released from custody shortly before 8 a.m., and authorities say they expect her to be issued a desk-appearance ticket.
But before you unleash your inner Regina George, here's a breakdown of everything we know so far about the Mean Girls star's latest brush with the law.
It All Started With Justin Bieber: Yes, you read that right. Before LiLo's alleged throwdown in Chelsea, she was surrounded by thousands of Beliebers up at Madison Square Garden. "I love all of my fans and @justinbieber @thewanted fans!!!" she tweeted. "Thank you so much for putting a smile on my face!! Lots of love."
Linds wasn't rocking out to the Biebs by her lonesome. According to Twitter, she was joined by Ryan Norris, a self-described "starving artist working for pop stars," AEG tour promoter Matt Granger and AEG employee Jon Baden. (E! News did not immediately hear back from Lindsay's fellow concertgoers when asked for comment.)
One concertgoer told E! News that Lindsay was with her sister, Ali. "She came in with the lights on and sat on the floor...She was smiling at everyone and took a few pics until escorted out...They sat in the front row. They left after an hour."
Guillermo Bosch/INFphoto.com
Tiffany and Her Husband Are [Obviously] Not Happy With the Situation: Wayne Stevens, the husband of Lindsay's alleged victim, told ABC News the couple "don't even want to leave the house at this moment." Tiffany is "all swollen," he said. "Her cheek is swollen...She's pretty aggravated." Stevens said the alleged nightclub altercation "kind of just escalated because someone else had a brawl" and claims he and his wife "didn't realize who it even was."
"She got drunk and crazy," he said of Lindsay. "That's the best I can say." 
Mom, at Least, Is on Team Lohan: Dina Lohan, of course, is still in her daughter's corner. A source reports to E! News that after Lindsay's release from custody Thursday morning, her mom was by her side.
And Father Still (Thinks He) Knows Best: Michael Lohan tweeted (and then deleted) his thoughts on his daughter's latest issue. "I have been trying for years and especially over the past two weeks but my pleas have gone unheard Children need BOTH PARENTS, not alienation," he wrote. "Do you see what I mean when our children don't have BOTH parents there for them and on the same page! I have tried and tried but takes two!"
Lindsay's Out of Custody, but This Isn't Over Yet: A judge will have to decide on whether this alleged incident was in violation of her probation. Authorities say they expect Lohan to be issued a desk-appearance ticket.
Makes Sense: A source exclusively tells E! News that Lindsay is in a bad place, mentally and emotionally, stress is taking its toll and her friends are hoping she seeks help. The actress is especially upset by the prospect of more jail time, the insider adds, coupled with the negative reviews she received for Liz & Dick, which was a real passion project for her. For now, we hear that Lindsay has no plans to return to L.A. until she's legally required to for court.
—Additional reporting by Baker Machado, Alexis Loinaz, Josh Grossberg, Alana Salata, Alicia Quarles
(Originally published at Nov. 29, 2012, at 10:31 a.m. PT)