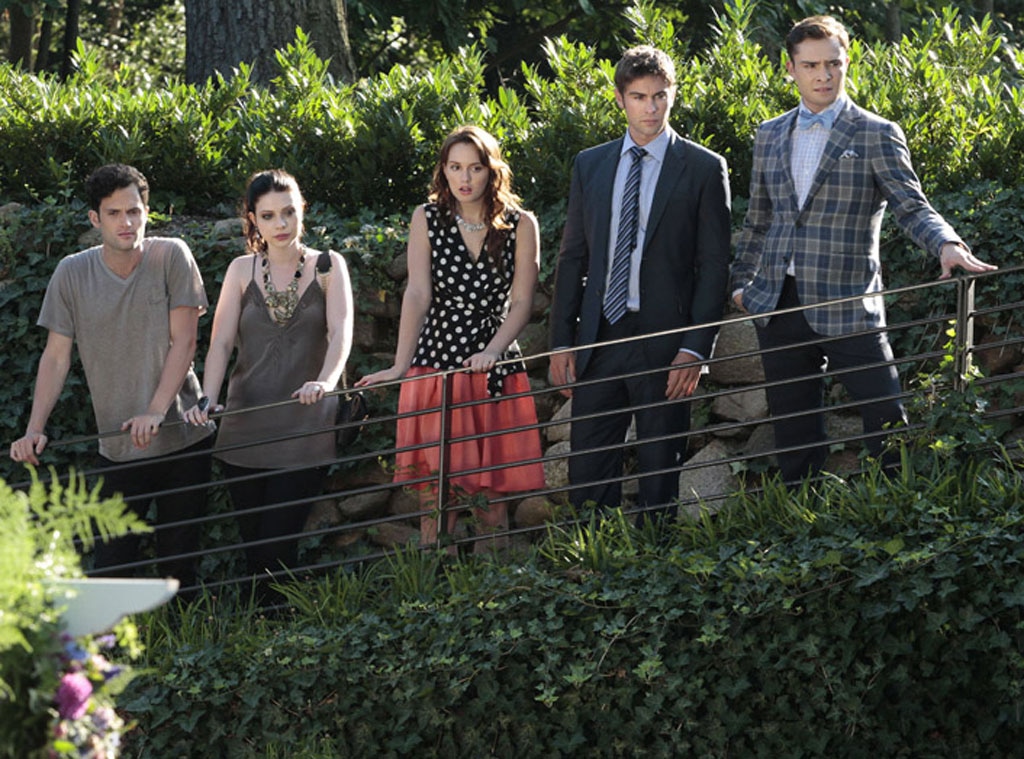 Giovanni Rufino/The CW
Still stuffed from Thanksgiving?
Well, unstuff yourselves because we've got some juicy helpings of TV spoilers that you just have to make some room for, like a pregnancy on American Horror Story: Asylum! And we couldn't deny you some scoop on a big reveal in the Gossip Girl series finale, now could we? Plus, we've got intel on How I Met Your Mother, Raising Hope and two of our juiciest blind items...
Patty: A couple weeks ago you had a blind item about a wedding, and you eliminated Once Upon a Time from the list. Can you eliminate another one? Or two? Or all but one?!
Now you're getting greedy. We will eliminate one more: Big Bang Theory. That leaves New Girl, Revenge, Grey's Anatomy and Happy Endings. Get to speculating some more!
terriwoodschels: Any spoilers on the lovely Kit in American Horror Story: Asylum?
Bust out the cigars because congratulations are in order for Kit! We've learned that the FX hit is currently looking for biracial twin girls, who are two years old, for one of the season's final episodes, so it looks like Kit and Alma will be making some very pretty babies! Though this does make us wonder what exactly those pesky aliens are up to.
Maurice: Gossip Girl...need the scoop!! Is the finale going to be any good?
Actually...yes! We obviously can't spill the beans, but we found out who Gossip Girl is and we have. So. Many. Emotions. It's pretty great. And even kind of makes sense.
Jenny: Got any scoop on Don't Trust the B---- in Apartment 23?
Watch out famous actors 'cause James Van Der Beek has daddy issues! The ABC comedy is currently looking for a well-known thesp to play the Beek's fictional father. At least, who James thinks is his father. (How very Barney Stinson of him!) Any suggestions?
Clarrisa F.: Do you know the status of How I Met Your Mother? Are they ending this season?
That is still up in the air, and we probably won't get a definitive answer until the new year, but it seems like the actors are on board to do one more. When we were onset recently. Alyson Hannigan told us: "This is the greatest job I've ever had. I'd like it to work out." Josh Radnor seems to be content with either decision. "I think if every party can work something out, including the writers, we might do another season or we might be done this season," he says. "Either way, it feels like we'll have had a really nice run on television." Do you guys want one more season?
Perry: Sons of Anarchy spoilers!
Tonight's episode of SoA will find Clay in a position he's never been in before, and unsurprisingly, he doesn't take too kindly to it. Meanwhile, if you thought things were heated between Jax and Wendy, you ain't seen anything yet. Plus, the walls start closing in on the Sons, and with the season finale happening next week, it's sure to be one hell of an episode.
Francesca: Please give us more on the long-awaited couple who are going to do the dirty!! Is it worth the wait?
Honestly? It's ultimately a bit tragic because of an unexpected twist. The sex isn't exactly what it seems, for reasons we would get into, but it would make their identity 100 percent obvious!   
Dino: Raising Hope scoop would be great! Thanks!
It's wedding time! Jimmy and Sabrina are getting hitched, y'all! Of course, nothing is ever easy for the Chances and Jimmy's special day is no different. Here are three things you can expect to see in the ep: botched RSVPs (no one will be raving about the food after this party!), a sneaky liquor store owner and a high school gym teacher who lettered in interrupting weddings. Yikes!
—Additional reporting by Jenna Mullins & Tierney Bricker
Want your TV questions answered in our next Spoiler Chat? Email them to tvdiva@eonline.com or tweet at @KristinDSantos!